May 29, 2023
Transport Logistic Exhibition 2023 Outcomes for the Coreteka Team

From May 9th to 12th, one of the largest and most significant logistics exhibitions in Europe took place in Munich, Germany. The Coreteka team, represented by Chief Operating Officer Andriy Bespalov and Head of Production Sergey Tunik, attended this remarkable event. In the article, we will share our impressions and insights from Transport Logistic 2023.
What is the Transport Logistic exhibition?
Transport Logistic is one of the world's leading trade fairs for logistics, mobility, IT, and supply chain management. The exhibition is held biennially in Munich, Germany, and attracts exhibitors and visitors from around the globe. In 2023, the event took place from May 9th to 12th. Each year, more than 65,000 exhibitors and visitors from 125 countries participate in the Transport Logistic exhibition.
At Transport Logistic, exhibitors showcase their latest products and services related to the logistics industry, including transportation, warehousing, material handling equipment, and IT solutions for logistics management. Visitors have the opportunity to stay updated on the latest industry trends, network with professionals, and attend various conferences and seminars.
The exhibition covers a wide range of sectors within the logistics industry, such as air, sea, and rail transportation, as well as road transport and logistics services. It also features dedicated areas focusing on specific topics like the e-commerce sector and the air cargo industry.
Key insights from attending Transport Logistic 2023
During the three-day exhibition, Coreteka representatives met with over 30 companies, including logistics providers and product-based IT companies developing supply chain solutions. Each of them had their own challenges and pain points.
Product-based IT companies offer excellent solutions for optimizing warehouse and transportation operations. However, their main focus lies in enhancing tech product functionality and user experience, leaving limited time for custom integrations that may distract their core product team. In this case, service companies-integrators like Coreteka can be valuable partners. While your team concentrates on core functionality, your vendor can take care of integration tasks. Read how API integration can be beneficial for companies and explore Coreteka cases in our latest article.
On the other hand, logistics providers and transportation companies require non-standard IT solutions tailored to their specific business needs, as each business is unique. Coreteka has extensive experience in developing custom solutions such as the driver-tracking app, Last Mile Connector, Warehouse Management System, and more.

Special thanks for supporting Ukraine at Transport Logistic 2023
Coreteka is a company with Ukrainian roots so we have an office in Kyiv. We were pleasantly surprised by the tremendous support European companies showed for our motherland at Transport Logistic 2023.
"Everyone welcomed us and wished Ukraine victory. I'm glad that the business community values my country and recognizes our strong engineering background. Moreover, Ukraine has cultural and geographical proximity to Europe. During the event, we also had the opportunity to discuss the development risks associated with the war. We showcased the functioning of our Kyiv office, which is independent of energy grids due to the use of Starlinks and autonomous equipment. The key is to understand the details and find a partner ready to handle force majeure situations. And if you want to meet our Ukrainian team without any risks, visit our office in Wrocław, Poland," — said Andriy Bespalov, Coreteka representative at Transport Logistic 2023 and our Chief Operating Officer.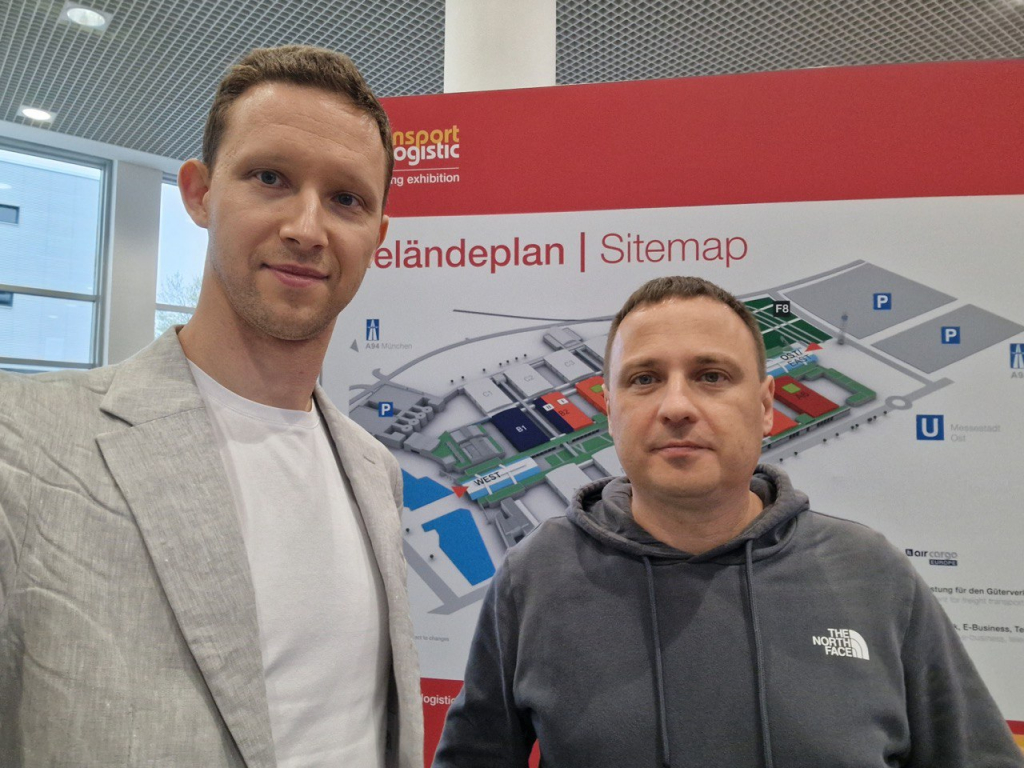 Supply chain trends from Transport Logistic 2023
Through conversations with representatives from various companies, we observed a global trend toward deeper digitization. The challenge in logistics lies in the fact that many processes still rely on manual intervention, leading to errors. Digitization aims to make processes more measurable.
"You can't manage what you can't measure. Logistics companies should strive to make their processes more cost-efficient. This presents a significant area of work for developers," — explains Sergey Tunik, our Head of Production.
Furthermore, there is currently economic stagnation. This underscores the need to focus on process efficiency. And what better solution than IT solutions? Invest resources in digitization and process automation, especially in custom solutions for your business. Over time, you will see how it makes your company stronger and more efficient.
Let's think together about how we could unleash your digital potential — drop us a message.