March 12, 2023
IT Staff Augmentation: Terms, Models, and Benefits
Whether you're a small company looking to develop simple projects or a large enterprise willing to streamline the delivery processes and design new features, it's essential to be in need of proficient software developers. Nonetheless, hiring talented specialists to reinforce your in-house team can be challenging. As the Media Monsters Global Report says, 9 out of 10 employers struggled to fill their jobs in 2022.
However, the American IT market is also undergoing a wave of mass layoffs, especially in technological giants like Amazon and Twitter. This causes the feeling of turbulence regarding the software development market. But experts predict just shifting the management vector. Now, it's displaced by contact positions instead of permanent staff. That's where offshore IT staff augmentation services come in handy, allowing companies access to a wide pool of tech talents at affordable prices. In this article, we explain how IT staff augmentation service works and how you can benefit from it. Keep reading to learn everything.
How does IT staff augmentation service work?
IT staff augmentation is a staffing strategy that involves hiring professionals to take up different roles in your organization for a fixed term. For example, you can get back-end and front-end developers to implement a specific feature into your project. This approach is a form of outsourcing where skilled experts are brought on board to complement your existing team and fill gaps in your workforce. Moreover, IT staff augmentation allows you to be flexible since you can opt out of employees when their responsibilities are unnecessary in a current situation. Cooperation terms are spelled out in the contract.
Such services are provided by IT staff augmentation agencies. They have a vast network of highly skilled and experienced professionals with expertise in various fields. By collaborating with them, you gain access to a pool of talent that you may not have otherwise been able to find.

IT staff augmentation typically involves several steps.
#1 Identifying staffing needs
Before searching for relevant candidates, the IT augmentation partner should analyze your current workforce and identify any skill gaps or areas where you require additional support. For instance, you may need experts in a specific programming language, project management, cybersecurity, or data analytics to help you complete a project on time and to the highest standards.
#2 Defining roles and responsibilities
This step includes determining the skills and experience required for each role and outlining the expectations for the project or duration of the job. Defining the roles and responsibilities ensures that you have a clear understanding of what you need and what you are looking for in the candidates you will be hiring. Your staff augmentation partner can help prepare relevant candidate profiles where all necessary information will be included. For example, experience in specific frameworks or projects.
#3 Selecting suitable candidates
Once you identified your staffing needs and described all necessary roles, it's time to search for relevant candidates. This work is completely done by your IT staff augmentation partner. Generally, service providers look for candidates from their own sources which allows you to get more experienced candidates. Then, HRs from a vendor's part conduct an initial interview to identify the most suitable individuals. As a client, you will be provided with carefully selected candidates to arrange a technical interview. If needed, an IT vendor can do this work for you.
#4 Integration and onboarding
After selecting suitable candidates, you should ensure their onboarding process will go smoothly. For example, to explain the project's specifics, provide workspace and necessary equipment, and introduce them to the team. Onboarding is crucial in the tech industry since it determines further cooperation. Moreover, when a developer's integration goes wrong, you might incur high financial costs. Read our article to make sure of proper software developer onboarding and find useful practices.

5 IT staff augmentation benefits for companies
IT staff augmentation companies make things easier because they allow you to skip the traditional recruitment process. This may seem uncomplicated until you will face it personally. According to a recent Glassdoor study, an average hiring timeline in the USA is about 24 days which also may vary depending on the city. For example, you will require approximately 33 days to find a candidate in Washington.
Among other benefits of IT staff augmentation are:
Faster time to market. Your company may lack professional software developers with relevant skills. This greatly decreases your performance on a specific project. On the contrary, you can get the needed skills and expertise in an accelerated mode with IT staff augmentation services. For example, a company in the healthcare industry may need to develop a new telemedicine application to meet the growing demand for virtual healthcare services. By leveraging the expertise of IT staff augmentation services, the company can quickly bring in IT professionals with experience in developing similar applications, allowing it to launch the new product more quickly.
Enhanced flexibility. Staff augmentation provides a high level of flexibility, allowing you to quickly scale up or down your workforce based on your changing needs. This flexibility ensures that you can efficiently manage your projects without worrying about overstaffing or understaffing. For instance, let's say that your organization is launching a new project that requires specialized IT skills that your current team does not possess. Instead of hiring a full-time employee with those skills, you could work with an IT staff augmentation provider to hire a temporary worker with the required skills on a project-based or individual-based basis. This approach provides increased flexibility because you can quickly add the necessary expertise to your team without committing to a long-term hire. Once the project is complete, you can simply release the temporary worker from their contract, which allows you to easily scale down your IT workforce as needed.
Reduced labor costs. When an organization hires temporary workers through an IT staff augmentation provider, they can often reduce labor costs compared to hiring full-time employees. First, temporary workers are typically hired on a project-based or individual-based basis, which means that organizations can avoid the cost of providing full-time benefits such as healthcare, paid time off, and retirement benefits. This can result in significant cost savings over the long term. Let's imagine you require a Senior Golang developer with 5 years of experience. According to Glassdoor, this position is paid $123,267 per year in New Jersey. The same job can be closed with $30,720 annually if you hire an engineer from Wroclaw, Poland.
What companies require IT staff augmentation services
There is a strong myth that IT staff augmentation solutions are available only for enterprise-level businesses. However, it's not true. The thing is that SME companies can benefit more from such services. For example, if you're a mid-sized business based in the USA, you are forced to compete with industry giants like Amazon, Netflix, and Apple to get relevant staff for your project. On the other hand, enterprises attract highly skilled professionals by offering them prestige, competitive salaries, and comprehensive benefits, which leaves small business owners with only a few exceptional engineers to choose from.

However, leveraging talent augmentation can help you outmaneuver the competition. By expanding your search for talent to regions that are not as heavily targeted by top market players, you can recruit skilled technology professionals at more affordable rates while maintaining quality standards.
How to choose an IT staff augmentation agency
Not all IT staff augmentation companies are reliable because the quality of services they offer can vary greatly. Some companies may not have rigorous screening processes for their candidates, resulting in lower-quality talent. Others may not have a good understanding of the client's needs, leading to a mismatch in the skills and expertise of the candidates they provide. Moreover, some providers may lack transparency in their pricing or have inflexible contract terms.
If you're in search of a reliable IT staff augmentation vendor, check these points before making a choice:
Experience and expertise. Look for a company with a proven track record of success in providing IT staff augmentation services. Check their experience in the industry and the technologies they specialize in. Choose a company with experts in the specific skill sets you need.
Quality of candidates. Evaluate the screening and selection process of the company. Ask about their criteria for selecting and verifying candidates, their training programs, and how they maintain the quality of their talent pool.
Flexibility and scalability. Choose a company that can provide you with the right level of flexibility and scalability. Look for a company that can adapt to your changing business needs and provide you with additional resources when needed.
Communication and collaboration. Ensure that the company you choose has clear communication channels and a collaborative approach. Check their communication tools, methods, and availability. Ensure that their team is easy to reach and can provide you with regular project updates.
Pricing and billing. Look for an IT staff augmentation company with a transparent pricing model and a straightforward billing process. Choose a company that offers flexible pricing options that align with your budget.
Client references and reviews. Research the company's reputation and check for client references and reviews. Look for feedback from clients who have worked with them before to gain insight into their strengths and weaknesses.

Coreteka is an IT staff augmentation company that provides businesses with proficient developers from Eastern Europe. Recently, we opened a new office in Wroclaw, Poland to get the pool of talent for our clients at affordable prices.
Our technology stack covers:
Back-end (Python / Java / PHP, Go / .NET / C, C++ / Rust / Node.JS / Apex / Ruby)
Front-end (React.js, Vue.js / Angular.js / TypeScript)
Mobile development (Swift / Kotlin / Flutter / React Native)
DevOps (AWS / Azure / Google Cloud / Digital Ocean)
Quality assurance (Automation QA / Manual QA)
Project management (Project Manager / SCRUM Master / Product Manager / Product Owner / Delivery Manager)
Business analysis (Business Analyst / Data Analyst / Technical Writer / BI Analyst / System Analyst / Product Analyst)
Data science (Data Scientist / Data Engineer / Big Data Engineer / Machine Learning Engineer / Computer Vision Engineer / Research Engineer / BI Engineer)
We also offer flexible recruitment prices. You can opt for three different packages, depending on the number of required people, recruiting fee, and additional services. Extra services include IT, HR, financial, and accounting support. Want to learn more about our proposition? Fill in the form to get a detailed presentation.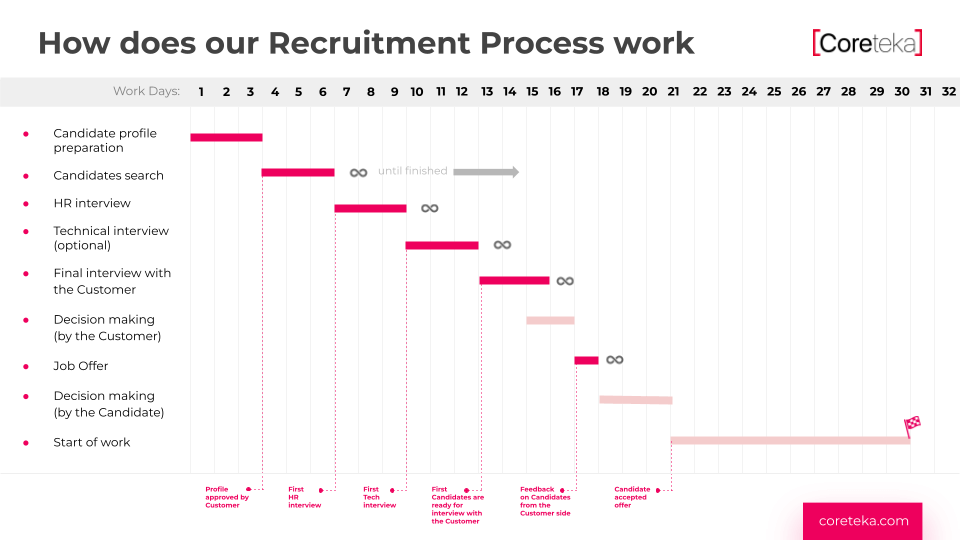 Frequently asked questions about IT staff augmentation
🔴 What are the different types of staff augmentation services?
There are different types of staff augmentation services available depending on the needs and requirements of the business. Here are some of the most common types:

Project-based staff augmentation. This type of staff augmentation service is used to hire skilled professionals to work on a specific project for a limited period of time. The staff is hired specifically to work on the project until it is completed, and then they are released from the project.

Team-based staff augmentation. This type of service is used to build a team of professionals with different skill sets to work on a project or a series of projects. The staff is hired for a specified period of time to work together as a team until the project is completed.

Individual-based staff augmentation. This type of service is used to hire an individual professional for a specific role or skill set. The professional is hired to work for a limited period of time, typically until the project is completed or until the business no longer requires their services.

Long-term staff augmentation. This type of service is used to hire skilled professionals for an extended period of time, typically for several months or years. The staff is hired to work for the business as long-term members of the team and is typically integrated into the company culture.

On-demand staff augmentation. This type of service is used to quickly hire skilled professionals on a short-term basis to fill an immediate need. The staff is hired for a specified period of time to work on a specific task or project and is released once the work is completed.
⚫ What is the difference between IT staff augmentation and managed services?
Managed services refer to the delegating of IT support and management functions to a third-party service provider. That's why they are often mistaken for staff augmentation. But in fact, IT staff augmentation and managed services are completely different. Staff augmentation is primarily focused on providing skilled professionals to fill specific roles or skill gaps within the client's organization. The client is responsible for managing and directing the staff, while the staff augmentation provider is responsible for recruiting and hiring the appropriate professionals. On the contrary, managed services are focused on outsourcing the management and maintenance of the client's IT systems to a third-party provider. The provider is responsible for managing and monitoring the client's systems, applications, and infrastructure on an ongoing basis, usually under a service-level agreement (SLA).
🔴 What is the difference between IT staff augmentation and outsourcing? 
The key difference between IT staff augmentation and outsourcing is that staff augmentation involves hiring IT professionals to work alongside an organization's existing staff, while outsourcing involves contracting out an entire business function or process to a third-party service provider. Staff augmentation is usually project-based or short-term, while outsourcing is typically a long-term engagement.
Afterword
IT staff augmentation is an effective cooperation model that can help businesses overcome talent shortages, reduce labor costs, and increase flexibility. By understanding the different types of staff augmentation services and factors to consider when choosing an IT staff augmentation provider, businesses can find the right talent for their needs and achieve their project goals.
With the right IT staff augmentation partner, organizations can gain access to highly skilled and experienced IT professionals who can help them stay competitive in a rapidly changing business landscape. If you consider cooperating with vendors, check out tips from this article to find the best IT staff augmentation solution for your business.
Need to hire an IT staff augmentation service provider? Drop us a line to get to know how we could help.