September 22, 2021
The Need for Asset Tracking in Supply Chain Management

The demand for asset tracking solutions in supply chain management is rapidly increasing due to the extreme importance of supply chain transparency and enhanced track & trace opportunities. The New York Times has conducted a study revealing a tremendous number of packages that don't reach their final destination in the United States.
More than 1.5 million shipments get lost in the U.S. every day, which predicts the missing of almost 40% of the global supply chain assets. Severe damage to the packaging, shipment misplacement, breakage, and theft have become commonplace, and therefore this problem requires a robust, innovative solution. Let's investigate how intelligent asset tracking software can help advance the entire supply chain management.
Why is asset tracking essential for supply chains & logistics?
A global pandemic with multiple lockdowns and strict rules of social distancing has entirely changed the way buyers behave, generating a dramatic increase in online sales. Therefore, supply chains became subject to complete transformation, making online purchases with pickup in stores, direct delivery from the manufacturer, curbside pickup, and delivery via smart lockers a usual thing for consumers.
Furthermore, the adjustment of supply chains also caused their flexibility that allows meeting consumers' demands. For example, thanks to the development of advanced cold chain solutions, products that spoil quickly and goods with short shelf life can now be rapidly delivered to the customer.
Such progress makes a proper asset tracking system necessary to help eliminate product theft or misplacement issues and define possible supply chain gaps. Fortunately, smart asset tracking with GPS and the Internet of Things provides various compelling opportunities for resolving the problems mentioned above. How mCommerce works in USA? Read on our blog.

How can IT asset management software refine data insights?
According to the Logistics Performance Index, an interactive benchmarking tool designed by the World Bank, the principle of track and trace is an essential logistics capability that affects the trade performance of every country.
The increased interest to track and trace means that asset management tracking software backed by the latest AI technologies and blockchain allows gathering, investigating, and monitoring multiple asset characteristics. Therefore, a full-featured asset tracking app or any other type of IT asset tracking software can serve real-time data and help make more informed decisions related to a specific supply chain.
What are the advantages of using an asset tracking system?
The correct and wise employment of asset tracking GPS systems, IT asset tracking software, or asset tracking apps can bring numerous benefits to the whole ecosystem of supply chain management. The thing is that well-thought-out asset management significantly helps enhance inventory management and deal with product theft, damage, misplacement, etc. Consequently, different companies can achieve distinct advantages in each particular case.
One of the fundamental asset tracking advantages is budget savings that in turn help to prevent losses. For instance, a famous company producing soft drinks decided to utilize asset management software with intelligent tracking to resolve the issue with disappearing vending machines that are pretty expensive. In this case, a thorough asset tracking GPS system has provided access to the machines' relocation route, which helped achieve enhanced traceability, save over €1 million yearly, and prevent thefts.
Another benefit of smart asset tracking is full compliance with set deadlines. For example, construction companies can monitor the materials from the manufacturing facility to the building site. Timely delivery of construction supplies is crucial as even minor deadline discrepancies can negatively affect the budget, company revenue, and relations with contractors and customers. Therefore, opting for full-fledged asset tracking solutions is necessary to avoid material storage and logistics troubles and have successful supply chain performance.
Learn more about air cargo digitalization in times of covid-19.
Also, professional asset management software helps boost efficiency and significantly reduce costs through enhanced data collection from various devices, detailed reporting, real-time data insights, and thoroughgoing workflow over the private network.

What are the main elements of an asset tracking system?
Each asset tracking system consists of four primary components necessary for its utter performance. These are tracker, platform, ERP, and connectivity. Here the tracker means the sensor attached to the specific asset making it accessible for tracking and control. The platform represents a functional management center that allows taking control over the devices. Meanwhile, the ERP implies integrating the asset tracking solution with your in-house software for resource planning or inventory management. The last component is connectivity (LoRaWAN & LPWAN). It stands for solid and efficient monitoring of your assets.
When it comes to robust asset tracking solutions, it is imperative to make sure the devices used are ready to go through the essentials of worldwide shipping. They should resist temperature extremes, vibration, and mechanical damage. Furthermore, a reliable asset tracking system should provide a smooth and steadfast performance around the globe to avoid extra costs for connectivity.

Empower your supply chain with top asset tracking software
Asset management software aims to help protect the entire cycle of the supply chain. The pandemic, severe weather conditions, climate changes, strained relations in the trade industry, political changes, and several other factors can interfere with the supply chain's normal performance.
By opting for innovative asset tracking software, you can ensure fast delivery of goods to the consumers without breaking the determined time frames. Moreover, innovative solutions for asset management tracking boast high-end sensors that allow you to thoroughly monitor shipments via land, sea, and air routes, enhancing the supply chains with complete transparency. Additionally, the enrichment of asset tracking apps with blockchain comes as a progressive change that can help to guarantee product sustainability. It also allows consumers to stay confident in product provenance.
To sum up, the need for asset tracking in supply chain management is not exaggerated. Robust and fully functional software for asset management is the key to supply chain optimization. Moreover, with foolproof asset tracking GPS systems and IT asset management software, supply chains become more protected, transparent, and regulated. So, proper asset tracking in supply chain management simplifies monitoring and brings countless opportunities for further development.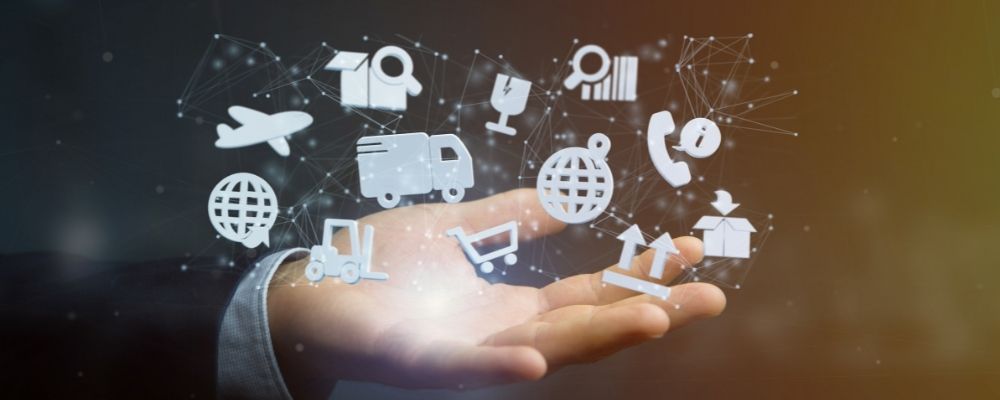 Coreteka has vast expertise in designing and developing premier asset tracking solutions for supply chains and logistics. Explore the list of our recent projects to see how we help companies of different industries grow and increase profit.
Also read about AI in Logistics and Supply Chain.
If you are looking for a dedicated team to create a full-featured asset tracking software for your supply chain, сontact us!