October 21, 2020
Logistics Saves Lives: Medical Supply Transportation Features

Transportation of vaccine and medical supplies becomes the most challenging problem for logistics providers and governments. In early 2020, carriers overcame the task to provide the population with personal protective equipment (PPE). But now the situation gets harder. It begs the question, how to deliver more than 10 billion doses of vaccine. Let's learn about medical supplies transportation features and explore challenges carriers could face during the COVID-19 vaccine shipment.
Medical supplies transportation: why is it still so challenging nowadays?
Let's get back to the first quarter of 2020. Then, governance and carriers faced the problems with PPE distribution. Factories couldn't cope with manufacturing pressure, and it got harder to control demand. There was a lack of shipping capacity. Traffic jams extremely slowed down the shipment. So, the estimated delivery time has suffered. And even when PPE reached destination counties, carriers faced custom clearance problems.
But haven't we learned nothing from the first wave situation? PPE distribution is about supply chain management. So, logistics providers learned long ago to control delivery issues. But vaccine transportation is a whole new challenge. And that's why.
The vaccine is sensitive to temperature conditions
For today, scientists develop and test about 250 COVID-19 vaccine samples. Companies choose different development technologies. According to the "COVID-19 Vaccine Tracker" source, drugmakers use 9 technology platforms to deliver vaccines. For example, they develop vaccines based on RNA, DNA, or protein subunit.
Biologists spend between 5 to 20 years to develop a vaccine. However, the new disease spreads extremely fast. So, the companies have to skip the vaccine's stability research stage. The vaccine's stability is its ability to withstand temperature extremes without changes in pharmacological property. It means that we can't receive accurate data about COVID-19 vaccine transportation and storage conditions. Moreover, there are a lot of technology platforms, so vaccine testing takes many years.
As a rule, carriers transport a vaccine at a temperature from 0 to +5 Celsius Degree. But we can't use these measures during the distribution COVID-19 vaccine, as we have no data about stability.
At the moment, we have 2 promising candidates to develop the vaccine. They are in the third stage of the clinical trial. The first candidate is the vaccine by Moderna and the National Institute of Health. The second one is the vaccine by Pfizer and BioNTech. But they have one common feature, as they both develop vax based on mRNA. As the DHL's research "Delivering Pandemic Resilience" shows, safe temperature conditions for RNA-based vaccines are -70 Celsius Degree.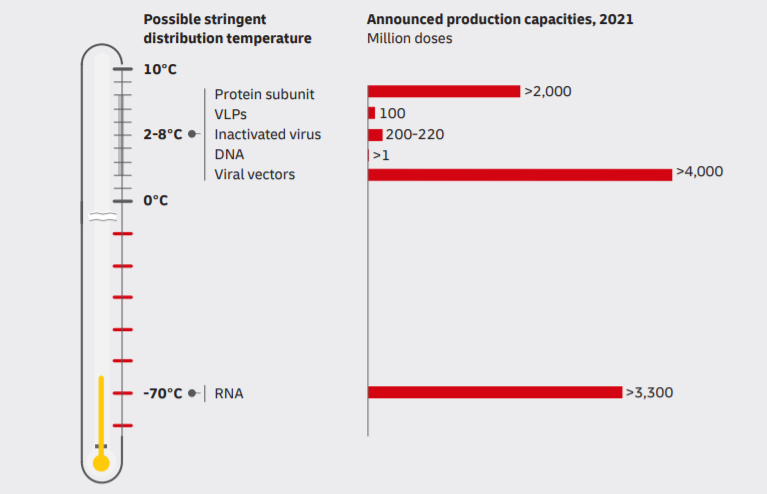 Thus, carriers have to provide storage and transportation conditions like in Antarctica for millions of miles.
Logistics providers use thermo containers and refrigerated vehicles to transport vaccines. However, chiller units can keep the temperature of about -18 Celsius Degree. Moreover, refrigeration installations can't work continuously. Otherwise, it will break down. So, there is a risk the vaccine will lose the pharmacological property.
Warm countries may not receive their vaccine doses
Strict temperature requirements for vaccine transportation cause the next question. How to deliver the vaccine to territories with warm and dry climates. Nowadays only about 25 countries have well-designed logistics infrastructure. However, it's just the third of the world's population.
Africa, South America, Asia run the risk of remaining vaccine-free. It takes long years until scientists will obtain accurate information about stability.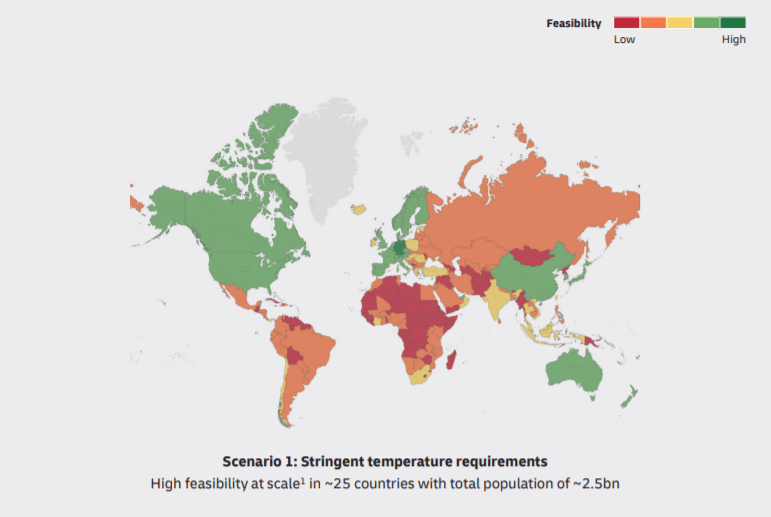 DHL forecasts 2 scenarios in the report. The first one is strict temperature control to deliver the vaccine. The second one is conventional. In the first case, only 2.5 million of the world's population will receive the vaccine, and 5 million in the second case.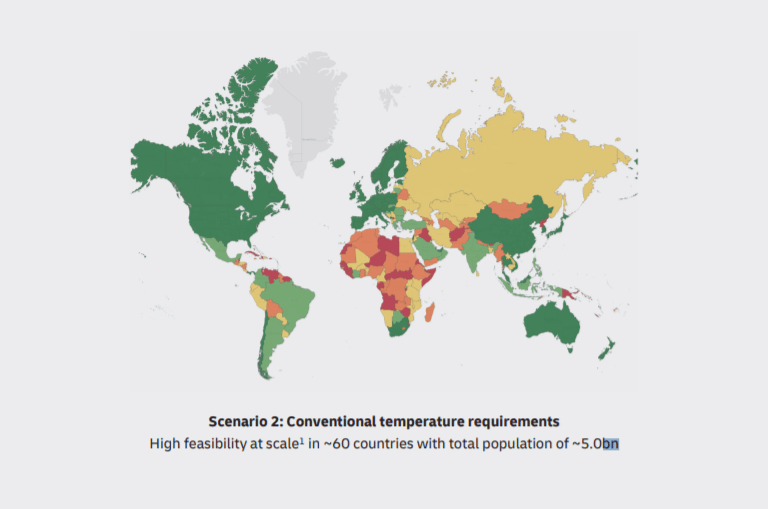 As can be seen, a large part of Africa will suffer even in conventional scenarios. That's why logistics providers and governance should find out new approaches and models to vaccine distribution to warm countries.
By ground or air: how to ship vaccine
Traditionally, carriers transport vaccines by air. However, the International Air Transport Association (IATA) estimated that we need about 8 thousand Boeing-747 jets to make vaccines acceptable to 7,8 billion people. IATA cited figures for one vaccine dose per person. But a lot of drugmakers warn about the "double shot" necessity.
Let's see DHL's statistics. We need to take 200 thousand movements by pallet shippers, 15 thousand flights, and 15 million deliveries in cooling boxes.
Aircraft didn't overcome distribution pressure. One unit can carry about 100 pallets. But logistics providers will not risk. They transport vaccines by smaller shipments, as drugs are extremely expensive.
The second problem of vaccine transportation by air is necessary to use dry ice. It belongs to hazardous cargo. Dry ice doesn't turn into water, but it transforms into dangerous carbon dioxide. One Boeing-747 jet can take on board about 3 thousand kilograms of dry ice. But it will poison the flight crew.
Nowadays vaccine shipment by air is the fastest. But we can't ignore other delivery types. Unlike the fast distribution by air, ground transportation promotes stability. Trucks can deliver a vaccine directly from drugmakers to hospitals. There is no need to unload the shipment from a refrigerator during movement. How to perform UX research? Read in the article.
However, here are some requirements for vaccine transportation by ground. Companies have to protect the freight against dust, dirt, direct sunlight. It's so important to track temperature, humidity conditions. Then, carriers have to provide data about critical indicators monitoring. The staff must know how to work on temperature sensitive freight.
Air and ground should stand together to overcome the challenge.
How does logistics market leaders prepare themselves for vaccine transportation and storage?
The large market players practice shows logistics companies should increase their storage capability and fight together to overcome the transportation of vaccine challenges.
Let's learn some examples.
Kuehne+Nagel invests in warehouses to store temperature-sensitive products. The company has built new facilities with different temperature zones. The property has the equipment to store vaccines at the temperature of -60 Celsius Degree. Warehouse workers use dry ice to achieve such extremely low conditions. Aso, the company has built a new logistics hub in Brussels. The facility has a pharmaceutical CEIV Pharma certificate.
DHL has expanded the storage area for Pharma Division with 20 thousand warehouse square meters. The new facility has several temperature zones. But most importantly, the warehouse is located within a Free Trade Zone. So, it gets a custom clearance procedure simpler.
These examples show governance should stand together with 3PL companies to increase vaccine transportation and storage efficiency and reduce expenses. Worldwide Health Organization recommends outsourcing medical supplies distribution.
How can technologies improve medical supplies transportation during the lockdown?
The COVID-19 pandemic shows the importance of new approaches to transport and store vaccines. Technologies are the driving force to overcome the lockdown. And here are some examples.
Biologists from Jenner Institute and Cambridge Biostability investigate a new method for vaccine transportation and storage. It can help to keep the drug stability on a high level. The solution is both simple and brilliant. The scientists offer to mix vaxes with sugars such as sucrose and trehalose. Furthermore, the mixture dries up and becomes a hard glass shell. It protects a vaccines' active part against losses of pharmacological property. As the scientists note, the solution could help to transport vaccines even in extremely high-temperature conditions of the environment. You just need to wash the sugar membrane to use a vaccine.
However, we can't avoid using containers to transport medicines, until scientists test a new method. So, the UPS company is developing freezer farms in the Netherlands and the USA. It's the cooling boxes with incredible size. They can keep temperatures inside to -80 Celsius Degree. The company notes that one freezer farm holds about 48 thousand vaccine doses.
As we talked earlier, carriers have to track medicine transportation conditions all the way. And here Big Data comes to rescue. We have already told why this technology is in demand among logistics companies and shown real use cases. You can find the related article here.
The FedEx company has developed a new sensor SenseAware ID to transport and store vaccines. The device collects data and tracks the shipment locations in real-time. Unlike other sensors, SenseAware ID is compact and fast. It updates information every 2 seconds. The device uses Bluetooth to save electricity and transfers data via Wi-Fi or gateways. Also read about shipping calculator comparison.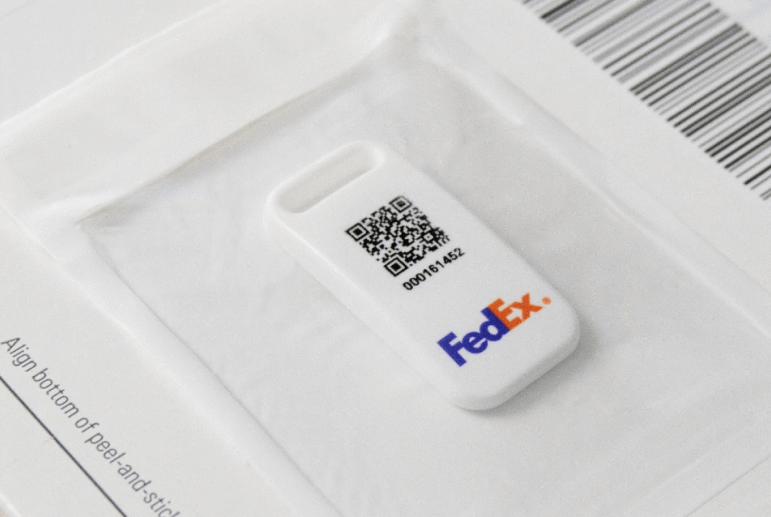 Governance and carriers should fight together to overcome the transportation of vaccines challenges. That's why IATA has developed the ONE Source platform. Here you can find and check information about airlines, airports, forwarders, consignors, etc. ONE Source helps to reduce risks on all supply chain stages in one place.
CoreTeka believes visibility, unity, and technology would change the world for the better. Even in challenging times.