July 11, 2020
Advantages of Outsourcing Software Development to Eastern Europe
Many companies in developed countries, small family firms, or huge international corporations, are practicing nowadays software development outsourcing. They are experiencing a growing demand for talented software specialists who can impress with knowledge and creativity.
Outsourcing software development is a model for selecting a provider of software development services remotely. Today the USA and Western Europe present a good percentage of the demand for qualified professionals. Eastern Europe, India, and China are on the path to fulfill this demand. Developers, UI and UX specialists, business analysts, etc. provide competence in web and mobile application development.
Every company tries to achieve the best results to be first in the market. Remote team members can reveal unexpected approaches and fresh ideas that will take a business to new peaks. Additionally, the companies could spend more time on other business needs that are connected with improvement and marketing strategies, because they avoid recruiting, training processes, and integrating new employees into the company culture. They can simply hire the professionals they need without the provision of equipment. It is more cost-effective for a business. Also, read about AI in Logistics and Supply Chain.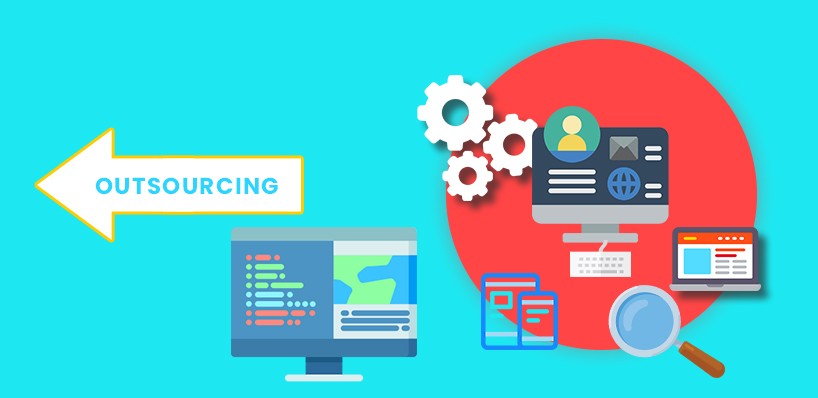 The usage of new software development outsourcing trends such as artificial intelligence, robotics, blockchain, and the Internet of Things become especially preferable for many organizations across the globe. The technology of the fifth generation of networks will motivate the changes in mobile connectivity.
A huge part of outsourced jobs is created due to the digitalization of banking, healthcare industries, and e-commerce. The service providers began to introduce progressive mobile applications and codes for each operating system.
Startups and small companies are now extremely hardworking to deliver high-quality solutions and adopt new services. They are now concentrated on the improvement of efficiency rather than on the lower costs as previously.
Offshore software development
Onshore, nearshore, and offshore outsourcing models are distinguished by location. Onshore companies work in the same country as the client and present no language barrier. Nearshore firms perform works by the order of nearby countries with similar time zones that ensure ease of communication and a high degree of control. For example, it can be a company from one state that hires a team from another state in the USA.
Offshore development gives the possibility for a company to work with a team located far away from its home country in a different time zone. The size of a team, based on the current needs of the long-term project, could be changed. Also, learn more about pricing models in software development.
Offshore outsourcing helps to hire an individual software developer or the whole agency that specializes in software development. Each developer should cope with the new language and cultural barriers that are different. That can be challenging for both sides to adapt to the specifics of another location, but every member of a deal tries to deliver great offshore product development solutions based on company goals and budget with high productivity at a low cost.
Outsourcing also comes with risks. A client partner could probably not meet his high expectations of the quality of work. He shares the data with third-party vendors and will not be able to have absolute control over an outsourced project. There can be low-quality professionals from India or South Africa who can affect the quality of the final work.
The developers in Ukraine typically work remotely from home or from a coworking space. For example, they can perform work independently with the global freelancing platform Upwork where companies from the USA and the United Kingdom looking for people to apply for their jobs. The work in an offshore development company will be managed, on the contrary, not only by the client but also by the manager of the outsourcing team. This helps to set up communication and reach the targets effectively. Furthermore, it is much cheaper for companies to outsource an entire project than to hire each developer individually for the internal teams.
The clients usually pay for the total working time with the contract terms that developers contribute to the projects. It is allowed to choose the payment depending on the amount of work: hourly rate or fixed-price.
Why do companies choose to outsource work?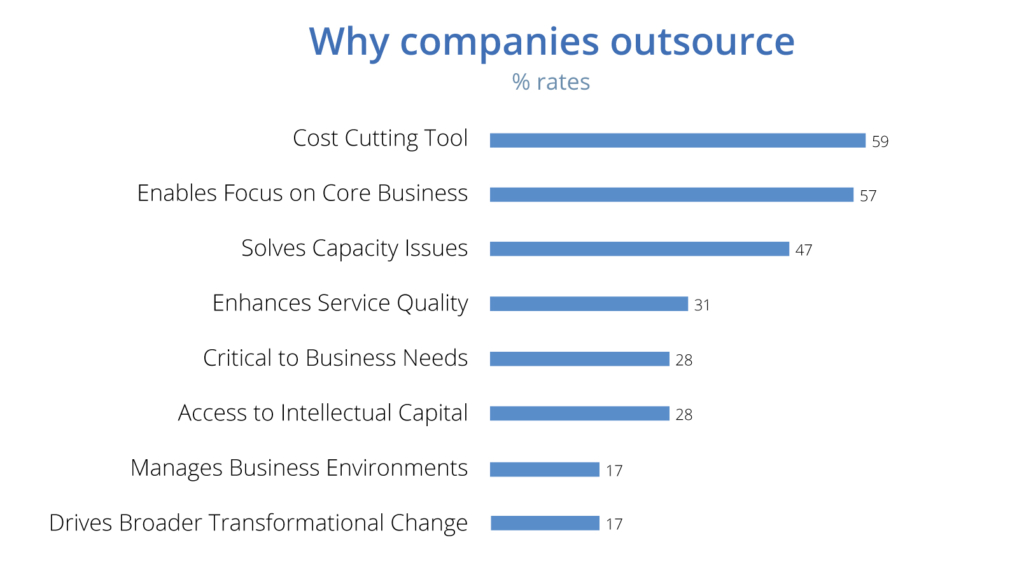 The companies choose to outsource because of the lack of specialists with the needed qualification level for their businesses. Outsourcing can, in fact, give access to IT skills that are unreachable inside the local team.
Foreign companies are able to choose the most effective personnel resources without limiting themselves to a particular location. The problem is that they have to pay the local developers significantly higher amounts than those who are working remotely. This is not efficient for their profit. Outsourced labor in
Eastern Europe now costs less than the same labor performed in Western Europe or North America.
The average salary of a software developer in the USA can measure up to 70 thousand dollars a year, while in offshore outsourcing these prices can reach only 30 thousand. The cost of living in an offshore country can be much lower than the cost in the country where a foreign company is based.
In Eastern Europe, governments started to improve IT education. Consequently, more and more qualified specialists in software development graduate in these countries. Demand for intellectual manpower caused the emergence of reputable IT outsourcing companies in Ukraine that are recognized by leading industry rankings. Accordingly, such corporations as Google, Apple, and Microsoft offer jobs to creative developers from abroad.
The main objective of outsourcing companies is to provide customers with the best software at a reasonable price. They help to innovate and thrive in the age of digital transformation. A fully assembled team of designers and testers from a global association of talent resources brings the ideas from concept to completion. Take advantages!
Also, you can read about warehouse automation technology on our website.