November 24, 2022
What Is UI/UX Design & What Does a UX Designer Do: Explained

Many businesses lose money because their applications or websites provide a poor user experience design. By creating an engaging user interface design, companies offer more valuable websites to their customers. How to check whether your designer is aware of crucial UX/UI basics? See below.
Web design is technically a subset of the broader category of web development. It means a visual view and interaction with websites and mobile applications that are popular nowadays. Briefly, the formation of website elements from structure and layout to images, fonts, active elements, buttons, and graphics is called web design. So the designers should follow the digital peculiarities and the trends of the web industry.
We often can find UI/UX that are put in one single term, but they are the subcategories of web design. UX identifies a user experience design. The term was created by cognitive science researcher Donald Norman. He explained in one interview the invention of UX. Donald wanted to cover industrial design, graphics, interface, physical interaction, and the manual together, so he coined a word that is now recognized all over the world. How to perform UX research? Find out more about it in our new article.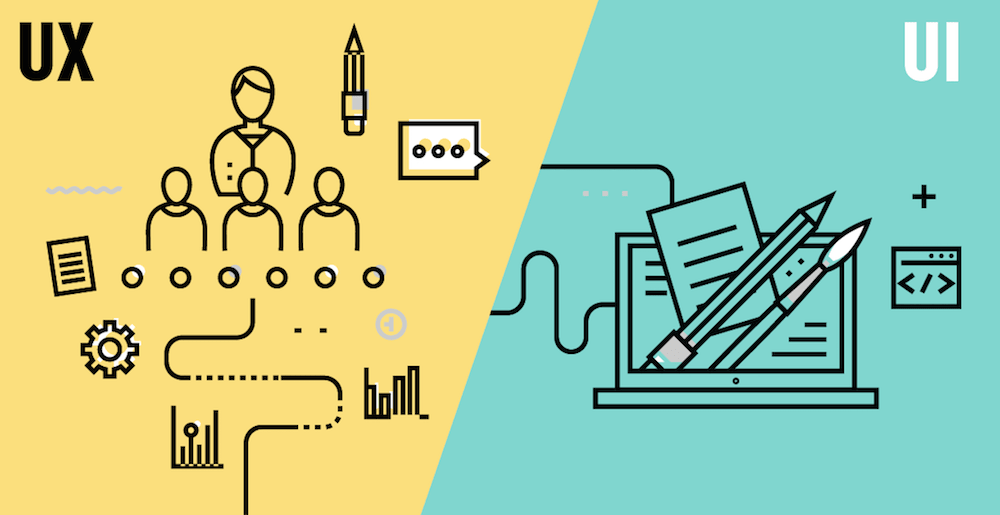 Understanding UI and UX design
When users deal with different websites, mobile applications, and online platforms, they evaluate two things: usability and visual appeal. For example, your customers can enjoy specific colors in your web source but buttons can be too small to click. That's what lies in UI and UX design principles.
User experience (UX) design presents a process of different product creation and, in practice, it implicates usability, interaction design, user research, and content strategy. It determines the whole structure of the interface.
The user interface (UI) is a specialization of web design that consists of a screen layout, transitions, interface animations, images, icons, buttons, and text entry fields. These buttons are made to follow the brand's purpose.
Designers are working on color schemes, the width of lines, and text fonts to make every element of a system memorable.
Thus, a UX designer works on the user interface operations, UI – on the visual look of the interface. Collaboration between UI and UX designers ensures the success of a complete project. An attractive design cannot win if an interface is uncomfortable to navigate. On the contrary, a fantastic UX design can be spoiled by an inappropriate visual interface.
UI design and UX are closely related concepts in web design but they differ in functionality. We cannot choose which one is more important. Are you knowledgeable about the difference between UX/UI? Let's explore. Also, read about shipping calculator comparison.
| | |
| --- | --- |
| UX | UI |
| Is connected with the user's expectations of a product; | Creates aesthetically-pleasing interfaces; |
| Starts from the product development process; | Continues after UX; |
| Back end; | Mostly front end; |
| Draft colors in prototype design; | A full-color palette for design work; |
| Creation of user tests, product design, usability, and lo-fi prototypes. | Content design, hi-fi prototypes. |
For common understanding, low-fidelity prototypes provide the simplest framework at the early stage of production. High-fidelity prototypes are close to the final product with the necessary design components. For example, it is easier to see the difference in the picture: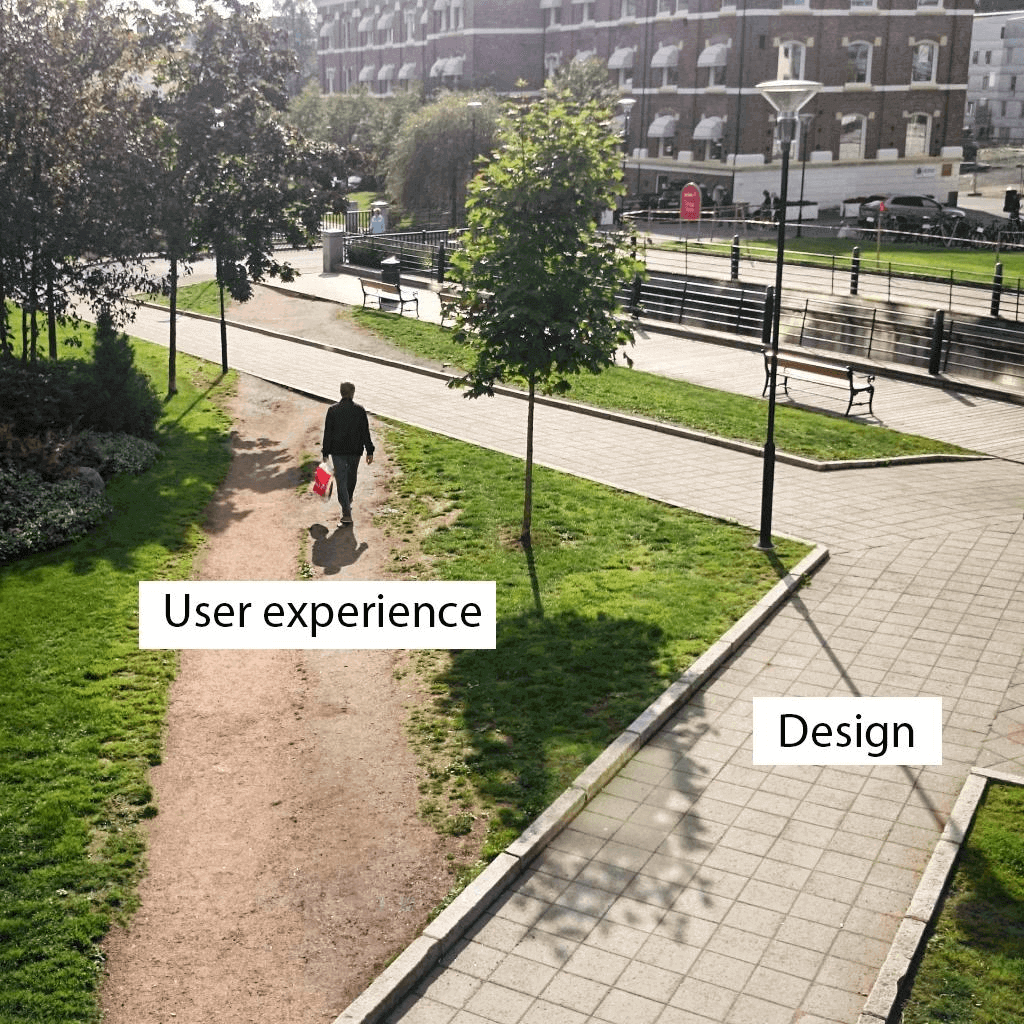 What does a UX/UI designer do?
What does a UX/UI designer do? Executes and facilitates data, typography, and branding in order to make an interface original and useful. He must be aware of the latest design innovations in order to guarantee that his product will be a work of cutting-edge technology.
UX designers should create comfortable and user-friendly applications. UI designers make aesthetic and creative views to add colors to the users' perception.

UI/UX designer salary
The salary of a UI/UX designer depends on his project's type and experience level. Salaries can vary greatly from country to country, so it is necessary to check the vacancies and propositions in place.
In the United States, there are many world-leading companies like Amazon, Google, Adobe, and Microsoft that pay much for these skills. You can see the chart below to check the yearly salaries of designers around the world.
According to recent statistics, the average annual UI/UX designer salary in the USA is about $103,946 which is $49.97 per month. Moreover, there are many world-leading companies like Amazon, Google, Adobe, and Microsoft, ready to pay much more for this position. In Eastern Europe, the rates are lower. For example, in Germany, the annual salary is about $60,000, and $22,300 in Poland. For American companies, hiring an offshore design team is a great way to decrease operational expenses without quality compromises.
Companies more often search for one person who performs the UI/UX tasks simultaneously. For example, an ideal designer has to know wireframing, prototyping, and concept design for various web products from mobile tablets to desktops, web front-end technologies including HTML5, CSS, and JavaScript, also the principles of CSS animation, Sketch, Illustrator, and Photoshop. The portfolio is a golden ticket to a high-paying job for an experienced designer.
Usability, simplicity, consistency, accessibility, and impressive design are powerful tools for the improvement of customer acquisition and raise of conversion. That is why the performance of the duties of UX/UI designers is so indispensable!
Also, you can read an interesting article about supply chain network optimization on our website.
Where can you hire experienced UI/UX designers for your project?
Plenty of cases show that managing in-house teams is not always suitable for business, especially when it comes to designers. After all, the processes of building interfaces and designing are ephemeral, meaning you should pay for the designer's work even when idling. Luckily, there is another option. You can build your offshore team which is provided on demand.
Coreteka can become your IT staff vendor, providing your project with experienced developers from Eastern Europe. We undertake all recruitment and team maintenance headaches. All you need is to conduct a technical interview with potential candidates and opt for the best designers for your project. If you have questions about how this works and specific requests, drop us a line to learn how we can help.
Conclusion
UI/UX design is an essential aspect of creating a successful digital product. UI design refers to the visual and interactive aspects of the product, while UX design focuses on the user's overall experience and satisfaction with the product. A UX designer is responsible for conducting user research, creating user personas, wireframing, prototyping, and testing to ensure that the product is user-friendly and meets the user's needs. Ultimately, a UX designer's goal is to create a seamless and enjoyable experience for the user, which can lead to increased engagement, customer satisfaction, and loyalty.
UI/UX design rates depend on specific skills and regions. For example, there are the highest rates for this type of work in the USA. However, you can significantly save your financial resources by collaborating with offshore teams. Since Coreteka provides technical stuff from Eastern Europe, you can contact us and get a detailed calculation of current prices.