March 05, 2022
Why Outsource IT Development to Ukraine: Statistical Study

The Ukrainian IT industry has achieved a quantum leap in the last few years. While some markets suffered losses, exported IT services in Ukraine reached $6.8 billion in 2021. Even global companies from the Fortune 100 ranking prefer Ukrainian IT services. Google, Siemens, Samsung, and eBay hire Ukrainian developers and open their R&D centers in the country.
Ukrainian IT Association published its annual Ukraine IT Report 2021. So, we have researched the study and shared engaging data and facts with you in this article. Serhiy Tunik, Head of Production at Coreteka, also disclosed his thoughts on how the Ukrainian IT market will evolve in the next years.
If you're interested in how the Ukrainian labor market stands today, what technologies are in demand, and what the Ukrainian tech specialist portrait looks like, read the article. You can also find fascinating facts about our team here.
What does the Ukrainian IT labor market look like?
Compared to neighboring countries, Ukraine has the largest labor market. Thus, it stands for 18.1 million people. Among them are 289,000 graduates specializing in the ICT sector. About 100 thousand ICT students receive higher education.
According to the 2021 year survey, more than 80 thousand future students applied for "Computer science" and "Software engineering" specialties. Half of the Ukrainian high school students want to work in IT. These figures show the industry is no longer a niche. It evolved into a trend.
While the demand for software engineers is growing, the qualified staff shortage is still challenging. Therefore, some IT companies invest in training programs for non-tech specialists. This way, people with higher education in other spheres can get IT qualifications and employment opportunities. 82% of companies already hire or going to hire proficients from other domains.
Thus, the global demand for IT services and relatively high salaries conducted the rapid growth of IT talents in Ukraine.
By the way, Coreteka opened a new office in Wroclaw, Poland. This is the first step to our development as an international company in European markets. As a client, you can get smooth delivery processes at affordable prices and expand your R&D centers in different destinations.
How is the Ukrainian IT potential evaluated in international rankings?
Ukraine is positively ranked on the specialized world and European ratings. According to WIPO, Ukraine ranks 49th among the most innovative countries in Global Innovation Index 2021. According to the IT Competitiveness Index by Emerging Europe, Ukraine ranks 11th among developing countries in Europe.
The key aspect stands not only for the number of IT specialists. Firstly, rankings recognize the high quality of the services. According to the SkillValue Report, Ukrainian developers are ranked 5th best in the world and 4th best in Europe. The cost for software solutions developed by Ukrainian specialists is competitive and reasonable. So, many foreign countries select our IT companies as reliable partners for outsourcing.
At the beginning of 2020, the COVID-19 pandemic slowed down IT sector growth. It failed from 30% to 24%. So, both large enterprises and small start-ups are squeezed into adapting to new realities. IT specialists stayed home for working remotely. This way, companies enabled employees to be home-based and meet the growing demand for IT services. IT companies consider these changes as long-term trends and growth opportunities. So they engage more qualified specialists from different Ukrainian regions in their activities.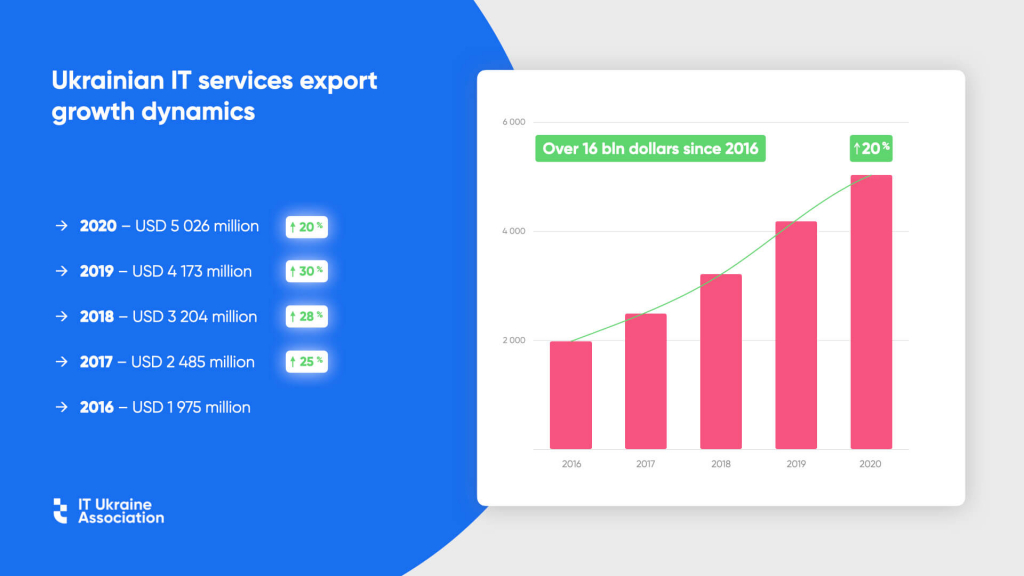 Therefore, the global pandemic hasn't stopped the Ukrainian IT sector development. Moreover, new companies emerge in the market, the old ones are growing. This proved the industry's stability even under unfavorable circumstances.
What technologies are in demand in the Ukrainian IT sector?
According to DOU research, JavaScript is the most used language among Ukrainian developers. 18.1% of software engineers here prefer using it as a primary language.
Other popular programming languages among Ukrainian software developers in 2021 are below:
Kotlin (2.6%),
Ruby (3%),
Swift (3.1%),
C# (4.3%),
C++ (4.6%),
TypeScript (6.9%),
PHP (10.1%),
Python (12.1%),
Java (14.7%).
The most popular frameworks and libraries in Ukraine are React.js, Node.js, and Angular.js.
According to the statistics, the second most popular language in Ukraine is Java. It's also widely used by the Coreteka team.
"Java is cross-functional and, probably, one of the best coding languages. It's easy to write, compile and debug with Java. But what's most significant, the language is platform-independent. It means that our client's software can be run on any operating system, whether it be desktop or mobile platforms. Java is also an ideal language for scaling up due to backward compatibility. That means that the older versions of the applications continue to work correctly even after updating to the new versions", — explained Serhiy Tunik the reasons for using Java in Coreteka, — we keep pace with global trends. Java and Swift are the most popular languages among our team. For back-end development, we stand for using PHP, Python, and Java. Node.js is also a great tool for our back-end developers. To improve the development process on Java, our software engineers also use Spring Framework. To work with databases, we use PostgreSQL and MySQL. Also, Angular.js, React.js, and Vue.js are operated for web application development in our team. The most popular cross-platform mobile development framework among Coreteka's developers is React Native. Our team creates native apps for iOS and Android and even develops Artificial Intelligence solutions in Python", — told Serhiy Tunik, Head of Production at Coreteka.
DevOps, QA, and UI/UX are the most common directions among IT companies.
As for our team, we're focused on:
Native mobile apps with Java, Kotlin, and Swift.
Cross-platform mobile development with Flutter, and React Native.
Back-end development with PHP, Java, Node.js, and Python.
Front-end development with React.js, Vue.js, and Angular.js.
Machine Learning, Artificial Intelligence, Deep Learning, and Data Science solutions.

According to the report, Cloud, Big Data, AI, Robotics, and Blockchain stand for the most emerging innovations. eCommerce, Banking & Fintech are core clients for the Ukrainian IT industry.
Also, IT services are in-demand in Medicine & Healthcare, Retail & Wholesale, Transportation, and Logistics domains requiring qualified IT services. Coreteka provides customized solutions for Logistics, Retail, and AgriFood.
It should be noted that half of the Ukrainian IT companies are service companies. A third of them both provide IT services and own their products: it's about 33%. The number of product companies is about 16%. Many developers prefer to work in start-ups and product companies.
Which countries outsource to Ukrainian IT companies?
The Ukrainian IT market is export-oriented. IT export grows faster than the export of any other goods or services. In 2020, the export volume of IT services reaches 32.2% and exceeds $5 billion. In 2021, the Ukrainian IT sector grew by 36% compared to last year and reached $6.8 billion.
The main growth drivers are the United States (40% of exports — $2,007 million) and the United Kingdom ($503 million). Other important partners are:
Malta ($304 million).
Israel ($238 million).
Cyprus ($205 million).
Germany ($197 million).
Companies all over the world entrust their software development processes to Ukraine.
"Just a few years ago, we felt distrust of Ukrainian developers. But now the whole world sees show how hardworking and responsible they are. Clients from the USA, UK, Germany, Netherlands, and many Nordic countries entrust to Coreteka their delivery processes". — commented our Head of Production.
Reasons why outsourcing to Ukrainian IT companies is beneficial
Geographical location and cultural closeness. Ukraine is only one hour ahead of Central and Western Europe and two hours ahead of the UK. A comfortable time zone enables easy communication. As many companies work night shifts, the USA, where the time difference is much more significant, also outsources software development to Ukraine. Another reason why they outsource to Ukrainian companies is cultural closeness. It is pleasing for For European and American businesses to communicate with Ukrainian developers, as our business cultures are allied.
A large pool of highly skilled talents. The number of Ukraine IT software engineers reaches almost 300 000 people.
Reasonable rates. The average software development rates in Ukraine are $25-$40 per hour. They are much more affordable than in developed countries. At the same time, IT service quality is high.
English proficiency. Most Ukrainian software developers speak English well. 80% of them know English at an Intermediate level or higher. It simplifies collaboration with foreign customers based in Europe and the US. Ukrainian IT companies are interested in improving the English proficiency of their employees. So they often provide language courses or English-speaking clubs.
Looking for a reliable outsourcing destination? Contact us to learn details.
Portrait of a Ukrainian software engineer: what does our IT specialist look like?
The IT industry involves primarily young people — 80% of employees of IT companies are from 18 to 32 years old. The average age of an IT specialist is 28 years./p>
55% of IT professionals in Ukraine have higher education in exact sciences and programming.
15% — in other domains.
60% of IT specialists have 3+ years of experience.
14% of them work in the industry for less than a year and 13% are in IT for more than 10 years.
As many IT companies partner with foreign businesses, the English proficiency of IT professionals is good.
About 68% of specialists speak Intermediate and Upper-Intermediate English.
The number of advanced English speakers reaches 13%.
4% know English at an Elementary level or below.
"The typical software engineer at Coreteka is 30 years old. He has 4 years of working experience in the IT domain and knows English at the Upper-Intermediate level. He also has a higher master's degree education", — told Serhiy Tunik.
A typical Ukrainian IT worker has a higher, mostly technical education. He speaks English at a level not lower than Intermediate. He also works in the IT domain for 2 or more years.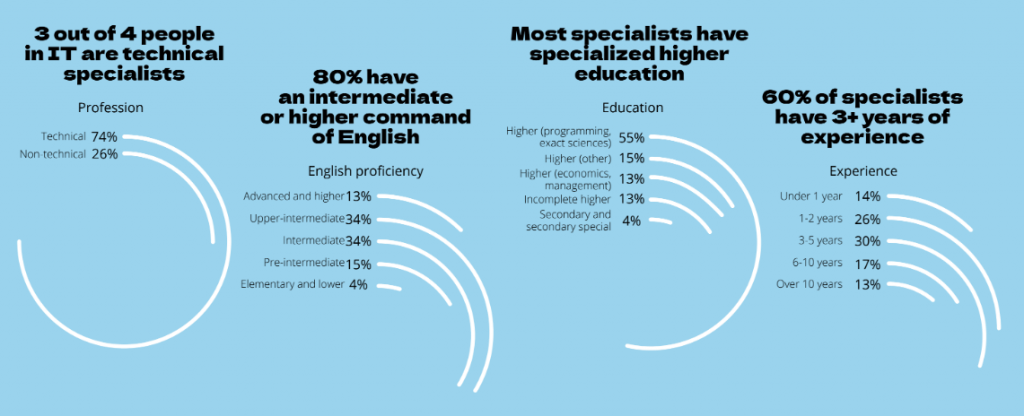 What are the prospects for the IT industry in Ukraine?
For the last five years, the Ukrainian IT sector has been rapidly growing. Experts predict that IT will provide up to $37-44 billion in Ukrainian export revenue in the next 4 years.
Since the demand for IT services increases, the number of specialists in this sector will be growing. According to the experts' estimates, the talent pool will double by 2024. Currently, the demand for new IT specialists far exceeds the capabilities of Ukrainian universities. The reaction to this is the emergence of many non-formal IT education institutions. They offer intensive training courses for new Juniors and prepare 10-12 thousand new IT professionals a year.
Among the most promising technologies in 2022 are:
Internet of Things.
Artificial Intelligence.
Machine Learning.
Robotic Process Automation.
Virtual and Augmented Reality.
Blockchain.
In 2021, Front-end web development, DevOps, and Python software were in great demand among Coreteka's clients. According to our estimates, the most requested technologies in 2022 will be:
Native apps in Java, Kotlin, and Swift.
Cross-platform mobile development with Flutter, and React Native.
Python development for Machine Learning, Artificial Intelligence, Deep Learning, and Data Science.
Back-end development with Java, Node.js.
Front-end development with different frameworks.
Low-code/no-code solutions.

Final thoughts
Entering the global crisis, companies were forced to reorganize their processes. Thus, IT outsourcing to Ukraine has become a global trend for businesses that are willing to get high-end software solutions at the best price. The number of IT companies in the Ukrainian market is growing. Your company can find the most trustworthy outsourcing partner in Ukraine that perfectly suits your business needs.
Our team is focused on three main domains — Logistics, Retail, and Agrifood. Collaborating with Coreteka, you can rely on our technical expertise. It consists of more than 120.000 working hours in our core domains.
Looking for a dedicated outsourcing team to deliver a technical solution for our business? Contact us to get professional advice.