January 11, 2023
Retail App Trends 2023: What the Future Holds in Store
Updated in January 2023

The modern world and the e-commerce sector in particular increasingly rely on smartphones, spurring the growth of mobile applications. Mobile commerce (m-commerce) is quickly becoming a preferred shopping channel for millions of customers and promises to reach a whopping $728.28 billion by 2025. Retail and e-commerce boast the highest app retention of 39% after 30 days of use. This means, users find retail mobile applications practical over a long period and are likely to keep them installed.
Therefore, more and more retailers are considering investing in mobile application development or converting their websites into apps. Which mobile apps will be likely to win customers' hearts in 2023? Let's discover the most actual retail app trends in 2023 that will be shaping the future of mobile commerce.
Retail app trends in the e-commerce sector
To create a successful mobile application, you should be aware of the following retail mobile commerce trends.
#1 User interface (UI) and user experience (UX) design
Although mobile shopping is gaining traction, customers still encounter frustrating cases that hamper buying experience. Thus, 67% of users recognize that pages and links are too small to click on, while 36% assert that they face difficulties finding what they are looking for. These interface deficiencies considerably impede mobile shopping.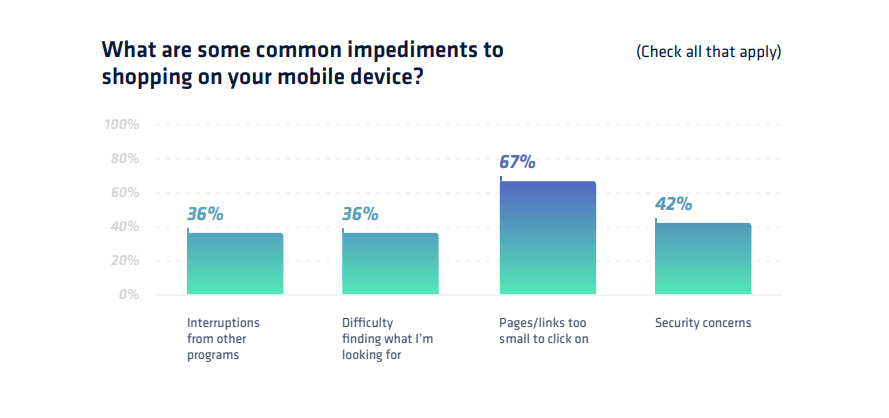 A UI/UX design implies a thoughtful combination of aesthetic elements, such as buttons, icons, fonts, and colors, and a smooth process of user interaction with the solution.
Ultimately, customer-friendly application designs help e-commerce companies streamline the user journey and stand out in a cluttered marketplace.
What makes an excellent UX/UI design? Several examples will help you find the answers.
Gymshark – a fitness brand
The company creates training apps that successfully implement the best practices of UX design, including
Large buttons to fit big thumbs (also regarded as "fat finger syndrome").
Full-screen images for the best presentation of the product.
Hamburger icons (navigation symbols indicating the location of a hidden menu) to switch conveniently to a navigation bar.
Simple and light interface.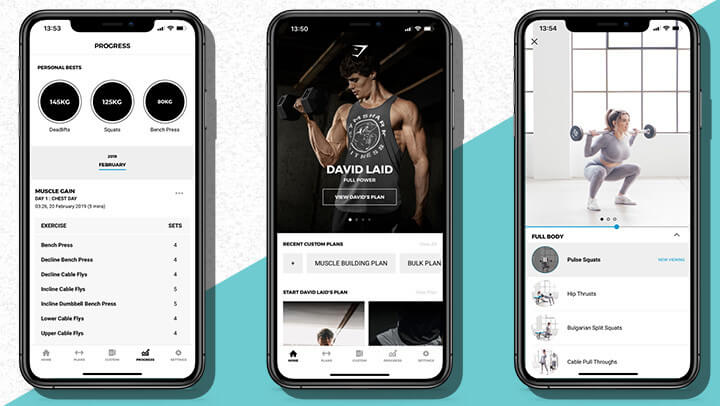 Gap – a clothing brand
The in-stock solution by Gap allows customers to check stock in the nearest store. With intuitive navigation and easily-clickable buttons, users can quickly select the characteristics of the required item and find out at which point of sale they can pick it up. The app also retains customer data, so clients can track their rewards and make orders in a few clicks.

#2 VR&AR
Augmented reality (AR) and virtual reality (VR) have come a long way from being expensive gimmicks to becoming feasible and accessible solutions to many retailers.
The technologies link physical and virtual worlds and provide an immersive shopping experience to jazz up the buyer's journey.
AR and VR tools find their use in a vast array of sectors. In tourism, the advancement helps replicate the travel experience. In the automotive industry, it empowers virtual test drives. Clothing brands arrange virtual fitting rooms for their clients. Even pharmaceutical companies harness VR to liven up certain states or symptoms.
IKEA – a furniture manufacturer
Ikea Kreativ is an AR/VR design tool that makes the redecorating process a breeze. This mobile commerce technology works perfectly in symbiosis with the IKEA app and intelligently generates an image that 3D objects can combine with. Powered by AI, the tool allows users to erase their existing furniture and place new virtual furniture pieces in real rooms. This way, buyers can view what the new products will look like in a real-life environment without physically removing or replacing a single piece.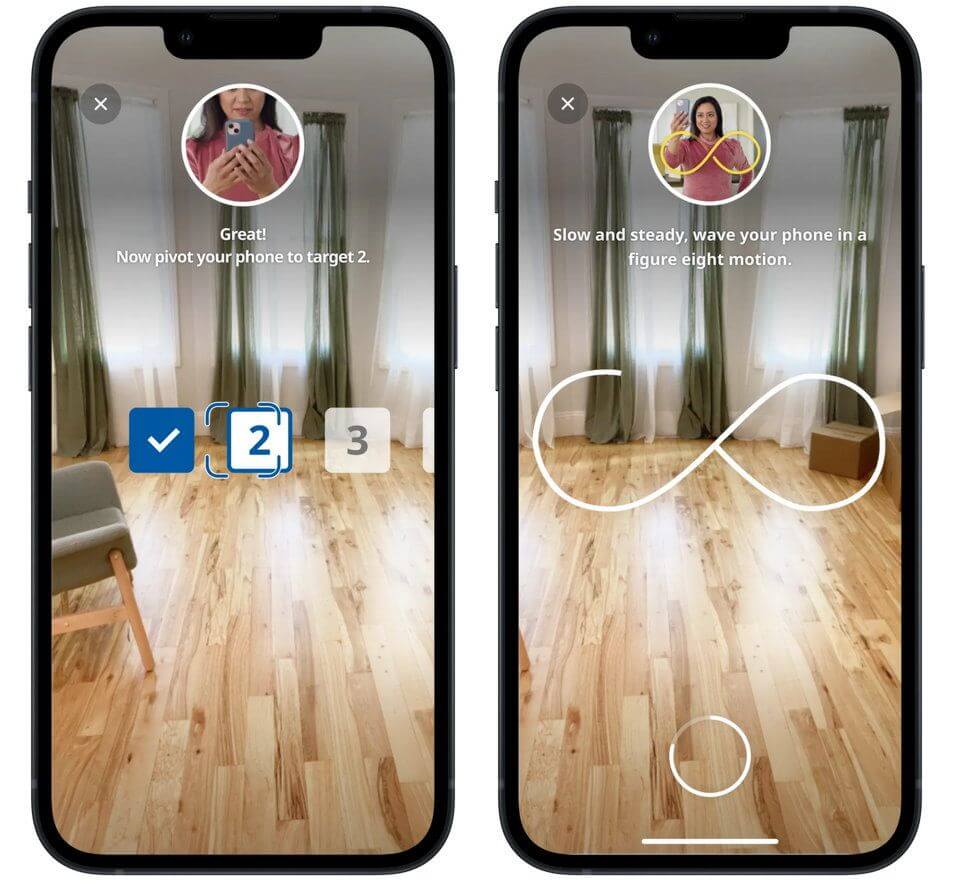 #3 Mobile chatbots
Chatbots successfully supersede humans in customer interactions. 80% of users have already conversed with chatbots, and many claims they enjoyed quick and efficient responses.
In e-commerce, brands are leaning into chatbots since they help to match customer preferences, relieve service teams, and cut costs. Chatbots can work 24×7 and streamline the buying process. Users find chatbots so instrumental that the global chatbot revenue is projected to surpass $454 million by 2027.
AI-powered bots are expected to make another leap ahead in customer satisfaction. According to Gartner mobile commerce trends research, e-commerce companies will attribute at least 25% of their customer satisfaction and revenue growth to the use of artificial intelligence.
One specific chatbot application sphere is abandoned cart prevention. With emails or separately, bots effectively encourage customers to get back to the items they left in their checkout carts.
Aveda – a botanical hair and skincare brand
The brand implemented an AI bot for Facebook Messenger that utilized a natural language processing technology. This intelligent chatbot holds the entire conversation with the client, addressing queries and offering solutions, and ultimately helps to arrange bookings for Aveda beauty services. The solution became one of the most successful examples of conversational chatbots that significantly increased lifetime users, bookings, and conversion rates.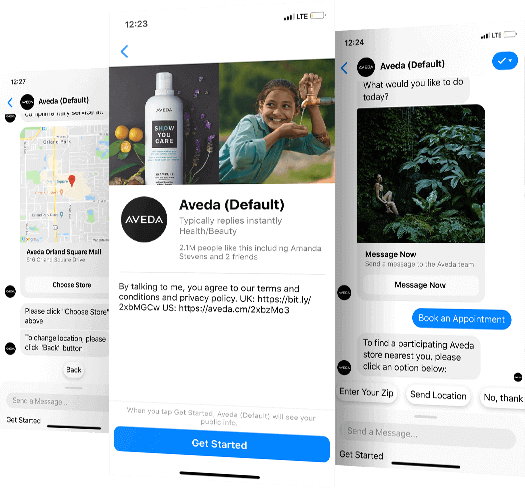 #4 Better omnichannel integrations
An omnichannel retail strategy is a clever way to cover crucial consumer touchpoints and optimize the path toward making a purchase. Mobile commerce is a cornerstone of this strategy as it can link online and offline activities.
Even when shopping in stores, visitors widely rely on their smartphones. 50% of buyers research products on their mobile devices prior to purchasing goods. 27% have bought an item through their mobile device while visiting a physical store.
Therefore, a winning combination of online-to-offline (and vice versa) shopping experiences promises significant favors to retailers. The so-called click-to-mortar incentives may include:
QR codes.
Mobile-friendly comparison pages.
Location-based SMS coupons.
Mobile-enabled point-of-sale devices.
Ben's Original – a food products brand
Modern consumers tend to research products they want to buy. The manufacturing technologies, the brand's social responsibility, and other aspects largely influence purchase decisions. However, all this information is hard to place in a limited product packaging space.
To address this issue, Ben's Original created an app that allows customers to scan a pack of rice and download the respective presentation about its growing techniques.
Scannable package codes open a width of opportunities to add sound arguments for customers right at the point of making a buying decision.

#5 Metaverse
Metaverse is the concept that has captured today's online world. In a nutshell, it is a virtual interaction space connecting physical and virtual experiences. This is the environment for gaming, working, trading, and more.
One of the revolutionary mobile commerce trends, Metaverse presents two central themes for retailers to consider:
Non-fungible tokens. NFTs, the one-of-a-kind digital assets, are a fusion of a product, a game, and a code. Some metaverses trade NFTs as part of their virtual world. Brands are collaborating with the platforms like Roblox or Fortnite to implement NFTs in their Metaverse.
Cryptocurrency transactions. Items in Metaverse are available for purchase with cryptocurrencies, including Bitcoin and Ethereum. These payments are expected to reach $1.4 billion in 2024. If you add such payment options to the mobile version of your e-commerce store, you'll get at the forefront of innovations.
Numerous brands have already established their presence in Metaverse.
NYX – a beauty brand
Supporting a new wave of experiential retail, the brand opened a virtual cosmetics store in the metaverse to showcase its product line. Shoppers in this virtual space can try on various makeups, attend livestream concerts, and undertake other activities.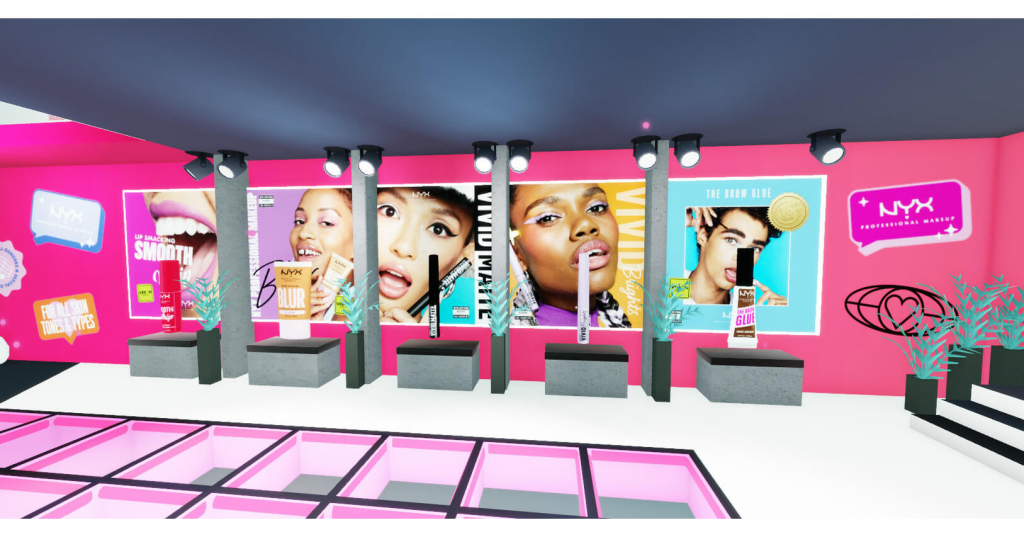 Trends summary
| | | |
| --- | --- | --- |
| Trend | Description | Application Example |
| UI/UX Design | A thoughtful combination of aesthetic elements that constitute the application's interface and a seamless user experience provided by the product. | Fitness apps by Gymshark featuring convenient design and intuitive navigation; The in-stock solution by Gap allows customers to check stock in points of sales, order items, manage their rewards, and perform more actions easily. |
| VR & AR | Technologies that combine real and virtual worlds delivering an immersive shopping experience. | Ikea Kreativ – a design tool by a renowned furniture manufacturer that allows users to see how IKEA furniture pieces will look in the real interior. |
| Mobile chatbots | Conversational AI tools that interact with customers and deliver service without human interference. | The AI bot for Facebook Messenger by Aveda, powered by a natural language processing technology. |
| Omnichannel integrations | A retail strategy that combines online and offline customer touchpoints to create a smooth user journey. | Scannable package codes by Ben's Original allowing users to get extended information about the product. |
| Metaverse | A virtual space for communication that connects physical and virtual experiences. The particular themes for integration in e-commerce apps include NFTs and Cryptocurrency payments. | A virtual cosmetics store by NYX that empowers customers to try on various makeups and participate in entertaining activities. |
Retail app trends: frequently asked questions
🔴 What is mobile commerce?
Mobile commerce (m-commerce) is a type of e-commerce that implies buying and selling products and services through smartphones or tablets. M-commerce provides users with access to online shopping platforms without the need to employ a desktop computer.
⚫ What trends affect the retail mobile commerce industry?
Some of the most innovative and game-changing trends in retail mobile commerce include user interface and user experience design, the incorporation of augmented reality and virtual reality,
mobile chatbots, omnichannel integrations, and the metaverse.
🔴 What is the next big thing in retail mobile commerce?
Considering the popular retail mobile commerce trends, the industry's future is likely to be guided by the further blurring of the boundaries between the virtual and physical worlds. Customers will continue shifting between real and digital environments to research, experience, and buy products. Technology, in turn, will become more and more intelligent to enable consistent and engaging purchasing experiences.
Final thoughts
Technology brings about constant change, causing the retail sector's continual evolution, if not revolution. Mobile commerce trends demonstrate that what seemed science fiction yesterday has become part of our lives today.
Should a retailer immediately rush into implementing all the advanced technologies to outpace the competition? Not quite. Start by analyzing your business goals, areas for improvement, and your audience. Then, determine the most critical innovations to help you best meet client expectations.
We at Coreteka boast tremendous experience in integrating technological advancements into e-commerce. We are proficient in UI/UX design, AR/VR solutions, AI technologies, chatbots, omnichannel strategies, and more. These technologies can be used in retail, healthcare, communication, design, education, and multiple other spheres. Overall, we completed over 50 projects for start-ups and medium to large enterprises. Our team will craft a winning mobile app for your brand encompassing the hallmark features that would delight your clients and spur revenues.
Contact us to share your ideas, concerns, or purposes, and we'll start innovating together!