October 17, 2023
Super App Development: Worth It or Not?

Super apps have revolutionized the Asian markets; so, should we expect their global expansion?
The very concept of super apps originated in China. WeChat, for instance, emerged as a reinvented communication app after several social networks were blocked in this country. The range of other apps, such as Alipay and Meituan, have also gained immense popularity by uniting a large array of services under one digital roof. For over a decade, super apps have been dominating the Asian market.
With more than 1.3 billion active users, WeChat sets an astounding example of commercial success. No wonder businesses from other geographical regions, including the USA, are closely watching the phenomenon of super apps, aspiring to repeat the path of their Asian counterparts. Elon Musk and Mark Zuckerberg already expressed their ideas to integrate additional services into Twitter and Facebook.
While super app benefits appear impressive, their development and implementation inherently bring a set of challenges. Read this article to investigate whether super apps are worth investing in and how to approach their development for a winning result.
But before you start, we recommend you take a closer look at the super app's essence, features, and examples in our previous articles.
Why can super app development be challenging?
To craft a profitable super app, you must first sustain a development phase. A feasible solution will require more funds, time, infrastructure, and resources than a regular application. Therefore, before you rush into implementing your idea of an all-encompassing app, you should recognize the challenges it could pose.
Fierce competition. The most successful super apps' functionality includes communication, financial services, transportation, retail, and entertainment. In these spheres, super applications compete with traditional mobile solutions. Each sector is full of mighty players with a well-built reputation, robust products, and loyal consumer bases. Whether you decide to tread on these terrains with your super app, you'll have to compete with them.
Legal requirements. Thanks to their all-encompassing nature, super apps enter a range of industry sectors, each with its regulations and rules. Banking, healthcare, transport, and financial super apps must meet strict regulations and compliance requirements. Moreover, legal rules can be intricate and vary from region to region.
Customer demands. Client expectations keep altering every day. Modern super app providers have to match much higher audience expectations than their counterparts a decade ago. Furthermore, consumers are pampered by the abundance of services and have their favorites. Therefore, you'll have not only to comply with user expectations but also sustain the comparison with the products consumers love.
Technology and implementation challenges. Super apps combine multiple services and functionalities, which can be technically complex to integrate seamlessly. When developing and implementing a super app, you must ensure a smooth user experience across various features.
Scaling and performance. You'll need to craft a competent growth strategy to gain a broad customer base. The enticing advantages of super apps are only attainable if you can increase the number of users. The extensive audience, however, has its downside, as you'll need to handle the associated workload and maintain high transaction volumes. Therefore, ensuring scalability and high performance is crucial.

Market research is key to profitable super app development
Super apps have exploded in the Asian markets, with China and Southeast Asia experiencing tremendous popularity of all-encompassing applications. The prominent super app examples in the region include WeChat in China, PayTM and Tata Neu in India, GoTo GoJek in Indonesia, and Zalo in Vietnam. The Asia Pacific super apps market is projected to grow with a CAGR of 26.3% and retain the largest market volume between 2023 and 2028.
In the sense of super apps adoption, the U.S. and European countries are still lagging behind Asia. Let's discover the reasons for this disproportion between Asia and the U.S. to address whether super apps will spread to America and globally.
Market situations and development routes
Many American tech giants started their business path before smartphone adoption. They were offering discrete services for desktop computers, like search (Google), social media (Facebook), and e-commerce (Amazon). When these services migrated to mobile apps, they preserved their fragmented nature. Fearing a blurred user experience and associated technical issues, companies hesitated to add too many app features.
Unlike the U.S., the digital environment in Asia started with mobile platforms, which inherently encompassed super app functionality. Therefore, consumers were also ready to deal with many services on one platform.
Another restraining factor for the U.S. was the reliance on credit and debit card payment systems. In Asia, card transactions were less widespread, which opened the way for mobile payments to be integrated into super apps.

Legislation and regulatory approaches
When super apps appeared in Asia, some of their operation aspects, such as the use of customer funds, transaction data sharing, and anti-money laundering measures, were underregulated. This enabled a quicker expansion of super apps and the accumulation of large consumer bases.
Today, numerous legal limitations, including data privacy requirements, anti-money laundering laws, and other rules, may decelerate the growth of super apps. Tighter regulations in both the U.S. and China require other business models than those applied by WeChat or Alipay in their early days.
On the other hand, stringent regulation of foreign apps in China also played a role in the boom of domestic solutions that ultimately turned into super apps. Thus, the prohibition of numerous U.S. mobile and web app providers, including Facebook, Google, Twitter, and YouTube, worked as a protectionist measure supporting Chinese applications.
The cultural differences
Culture and traditions also affect technological development. In general, several researches have revealed a higher willingness of Asian people to adopt new techs. The other cultural features that also facilitated the growth of super apps in that region include the tradition of monetary gifts, which were included in WeChat's functionality, and the collectivist behavioral traditions of Asian consumers.
While Americans have concerns about trusting large and powerful corporations, customers in Asia are more eager to accept the role of big enterprises in their lives; hence their openness toward all-encompassing mobile applications.
The outlined aspects demonstrate how cultural, political, and economic factors impact technology development and acceptance among consumers. Therefore, before planning your own super app development, be it a finance super app, retail super app, or other, it's important to understand the factors that led to their boom in Asia and assess the respective opportunities in the other markets.
Does the U.S. market have conditions for the boom of super apps?
Although the differences between the Asian and the U.S. markets are substantial, there is still solid ground to forecast the super app will thrive in the USA. Thus, 72% of U.S. consumers have a potential interest in using a super-app. As shown in the chart below, the interest in other countries is also significant.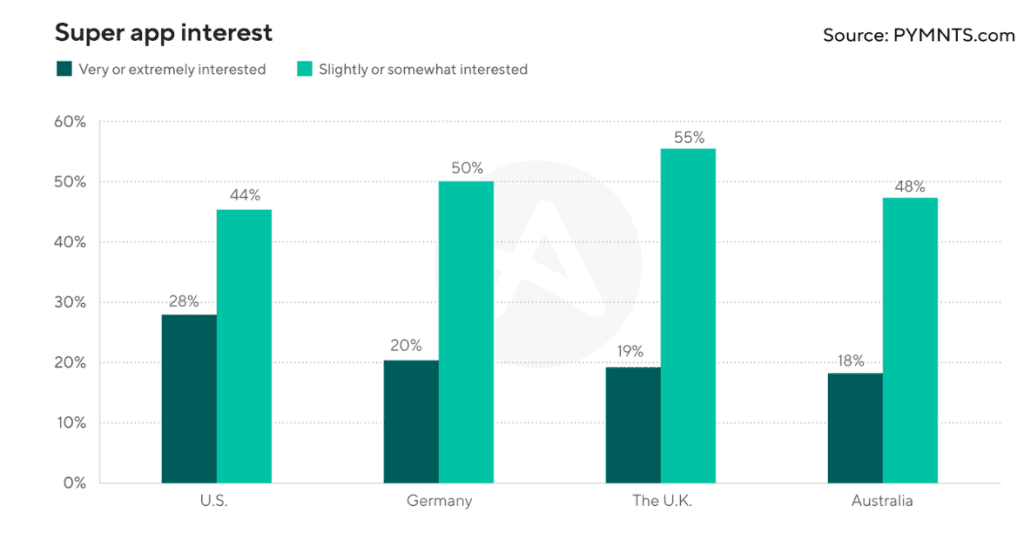 Furthermore, the large tech companies in the U.S. are on their way to joining the super app game. Facebook has already included e-commerce, payments, gaming, and entertainment in its main application. Amazon extends its services with pharmacy and medical consultations, content streaming, and grocery delivery. Uber offers travel booking and food delivery.
Several U.S. market trends indicate the opportunities for super apps to flourish in this region:
Mobile-first culture. Today, mobile devices are becoming central to daily life in the USA. The prevalence of smartphones has created an environment where users tend to embrace apps that enhance their mobile experiences.
Demographic changes. Generation Z is more inclined toward gaming, entertainment, and social services that usually come within super apps. They are also eager to try new techs. As younger generations acquire a higher purchasing power, they create a greater potential demand for super apps.
A superfluous number of apps. New apps keep emerging every day, and customers are facing a situation when they need to download an app for each required action. Research on enterprise communications demonstrated that 69% of employees waste about an hour a day switching between different apps. Furthermore, smartphones have a limited storage space that wouldn't allow for countless apps. These factors increasingly give more appeal to all-in-one applications.
Tech novelties. Technology is a driving force of numerous innovations across industries. Such tech breakthroughs as AI, AR/VR, and blockchain can trigger the advent of a new level of super apps that would take the market by storm.
Although it's still hard to predict what kind of super apps will succeed in the USA, their counterparts are already appearing there, while the potential demand for such solutions can also be observed in other parts of the world. Nevertheless, the regions beyond Asia are still unexplored terrain for super apps, which gives tempting opportunities for the one who occupies it first.
How to make a wise super app development decision
Super app development demands a meticulous and strategic approach. You should consider market dynamics, regulatory requirements, and the competitive landscape while addressing users' unique needs and expectations.
Therefore, a business analysis stage is paramount for super app development. We at Coreteka can help you fulfill this task, as our team combines profound domain knowledge across sectors and technical prowess. We can handle your project entirely, from business analysis and idea validation to successful implementation and maintenance.
Specifically, our business analysis stage includes the following steps:
Determining business context and identifying project scope.
Identifying and analyzing the project stakeholders.
Project requirements collection.
Preparing documentation to formulate software specifications.

Super app development FAQ
🔴 How do you build super apps? 
First, you should identify user needs by discovering what services the audience requires. Then, partner with service providers for a range of services. Using the appropriate tech stack, develop an intuitive, user-friendly interface. Build a robust infrastructure to handle growth. Finally, release the app, gather feedback, and improve continuously.
⚫ How does the super app make money? 
Super apps generate revenue through various channels, including service fees, transaction fees, premium subscriptions, advertising, partnerships, and data monetization. By offering a wide range of services and attracting a large user base, they create opportunities for diverse income streams.
🔴 How much does a super app cost? 
The cost of developing a super app can vary significantly based on features, complexity, design, and location of development. Costs typically include development, design, infrastructure, ongoing support, marketing, and scaling. 
⚫ Are super apps better than classic applications? 
Whether super apps are better than regular apps depends on user preferences and specific needs. Super apps offer convenience by integrating various services into one platform. Regular apps, on the other hand, are specialized and often excel in providing a dedicated service. The choice between the two depends on numerous factors that can be revealed by business analysis.
🔴 What makes a super app successful?
A successful super app offers a seamless, user-centric experience by integrating diverse services in one platform. It must prioritize user needs, maintain high performance, ensure data security, and regularly update features. Effective marketing, strong partnerships, and scalability are also crucial. Ultimately, success lies in delivering value, convenience, and innovation to users, making an app an integral part of their daily lives.
An afterthought
Developing a super app is an appealing yet challenging undertaking. Entrepreneurs can consider the experience of Asian countries where the popularity of super apps has skyrocketed. However, they must be aware that Asian markets have their unique economic, political, and cultural conditions that spurred the thriving of super apps.
Today, the USA and several other regions are strongly interested in super apps. A range of factors in the U.S. market witnessed a significant potential for super app development. Therefore, companies must conduct a meticulous business analysis to build their own product in any region, including the USA.
We at Coreteka can help you assess the market, competition, and your target audience, to reveal what you should focus on to craft a winning solution. Should you create the finance super app, crypto super app, or prioritize social services? We will help you find the answers.
Partner with Coreteka to ensure that your idea would be feasible on the chosen market and get a flawless super app containing the most crucial features for your audience.