September 08, 2023
Top 3 LTL Cost Calculators And Their Features 

Addressing the pricing transparency challenge is a struggle for logistics service providers. On one hand, the transportation cost is flexible due to its dependence on a multitude of factors. On the other hand, third-party logistics providers' (3PLs) customers seek upfront clarity regarding the expenses involved.
Requesting transportation services further adds to the complexity. Imagine this: a potential customer must manually reach out to multiple providers, gather quotes, meticulously compare them, and then make a suitable choice, all while requiring the service on the very same day. This raises the question of finding a middle ground.
This article introduces you to 3PL cost calculators, highlighting their convenience and functionalities. Moreover, we will present a range of options that are already available in the market, accompanied by a comparison of their distinctive features. Keep reading to delve into the details! Before we start, it can be useful to read another article about transportation price formation in the 3PL field.
What is a 3PL cost calculator?
3PL cost calculators are online platforms where logistics service providers' customers can estimate their transportation and supply chain expenses. Such solutions take into account various factors that influence the final cost (distance, vehicle type, shipment size, weight, delivery timeframe, and so on). Simply put, a user can fill in all necessary fields and get detailed 3PL pricing calculations in a couple of seconds.
Large logistics service providers like DHL implement such solutions because this brings transparency to their services. Moreover, this also increases the conversion rate as customers can book transportation directly from their websites.
Some 3PL cost calculators may offer additional features—comparing quotes, suggesting optimal transportation routes, and considering various services like temporary storage or goods unloading. This makes such solutions good options for engaging logistics value-added services.
There are similar solutions for the eCommerce industry where users should compare prices for fulfillment services. If this is relevant to you, read this article.
Is an online website form the same thing as a calculator?
We would say no. Some logistics providers place detailed contact forms on their websites to get transportation requests from their clients. Nonetheless, this is not always convenient for customers because they are forced to share their personal information and wait for the sales department to answer.
Unlike contact forms, shipping calculators are more convenient since they provide quotes in real-time, allow users to compare prices, and quickly book needed services. By investing in such solutions development, logistics service providers can improve user experience and customer service.

Why logistics service providers should implement 3PL cost calculators
3PL cost calculators are about the convenience of your customers. Due to clarity in pricing, you can establish strong relations with your clients. Here are some features such tech solutions bring to your logistics business:
Time-saving. Сlients spend too much time seeking a logistics service provider with suitable transportation rates. This process requires careful selection and comparison of shipping costs. But with online calculators, it's possible to get necessary quotes in a couple of clicks.
Appropriate rate options. Logistics service providers frequently collaborate with multiple carriers and each of them provides different transportation rates. When developing your calculator, you can take into account available options and get your customers a choice.
Transparency. With 3PL cost calculators, you can provide your customers with a clear estimation based on distance, average weight, and vehicle type. In such a way, there is no need to make 3PL pricing templates manually.
Availability. 3PL cost calculators provide permanent accessibility to your services. Thus, clients can calculate transportation rates at their convenience, regardless of their geographic location and the hour of the day. This constant availability empowers clients with information when they need it most, reinforcing their confidence in your logistics services.
3PL pricing calculation options may seem a simple solution. Nonetheless, its implementation requires technical expertise and awareness of the logistics business. In return, you can get satisfied clients and transparent pricing.
3PL cost calculators available on the market
Online estimation options can be good solutions both for mid-sized companies and enterprises. Let's explore how this works in detail by investigating the solutions that already exist on the market.
WareTeka LTL/FTL Shipping Cost Calculator

WareTeka LTL/FTL Shipping Cost Calculator was developed by the Coreteka team specifically for the Ukrainian market since there was a big challenge for companies to find suitable carriers for their transportation needs. This solution considers all peculiarities of pallet shipments. A user should fill in fields like shipping date, number of pallets, declared price, and average weight to quickly get a detailed estimation. The information is based on prices from 28+ logistics providers, allowing customers to opt for services that suit them best. Several vehicle types are also available so it's possible to transport goods in different temperature modes. After filling in the form, you will receive detailed information about delivery conditions. There are also several value-added services proposed. For example, you can request documents returned, retail chain distribution, and temporary storage.
WareTeka LTL/FTL Shipping Cost Calculator is a solution that can be adapted to your business, meaning it's possible to buy it as a configured option. Our team set the platform according to your requirements. If you need such a solution, contact us.
LTL Select – intuitive platform connects shippers to LTL carriers

This platform (ltlselect.com) is supported by FedEx,—one of the largest American transportation companies. The solution unifies shipping quotes from different carriers while all that is left for users is to enter their information and receive multiple delivery options. Through the platform, it's also possible to get access to a free online TMS where customers can track their shipments requested from LTL Select. Why is this so necessary for logistics? Explore in our article.
Among other features are automated bills of lading creation, transit time comparison, and quote sharing via email. If a user is satisfied with a specific carrier, they can make repeat shipments in one click.
FreightRun- tracking shipment until it is successfully delivered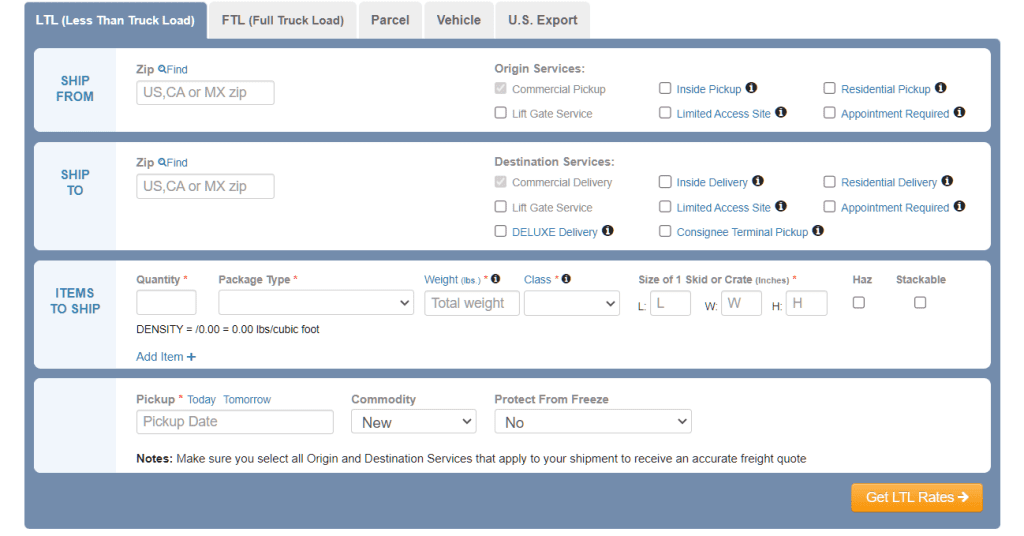 FreightRun (freightrun.com) is an online platform where you can book transportation with various options—LTL, FTL, and parcel delivery. Moreover, here you can search for international shipments. To search quotes, specify the origin and destination, providing clear information about your freight. You can also choose extra options like residential pickup or lift gate service. After filling in all the forms, you can opt for different carriers, get a bill of lading, and pay for transportation directly from the website.
3PL shipping cost calculators comparison
Let's explore the specifics of each mentioned calculator in detail.
| | | | |
| --- | --- | --- | --- |
| Feature | WareTeka Shipping Cost Calculator | LTL Select | FreightRun |
| Multiple carriers | + | + | + |
| Document exchange | + | + | – |
| Transit time comparison | + | + | + |
| Transportation discounts | + | + | – |
| Online rates visibility | + | + | + |
| Extra features | Temperature modes, value-added services, and delivery start from one pallet. | Free online TMS, easy delivery rescheduling | Extra picking options, transit time notifications, different transportation options |
3PL shipping cost calculation FAQ
🔴 How do you calculate the cost per pallet position?
Since 3PL rates are flexible, the final price depends on the provider you choose. However, LSPs form the service price based on the number of pallets, their dimensions, and their weight. It is also considered a value declaration of goods since reliable service providers are responsible for the safety of your commodities during transportation. 3PL shipping cost calculator implementation can be a good choice for LSPs for quick quoting. 
⚫ How to save costs with 3PL?
As logistics service providers have established relations with carriers, it's much more beneficial to communicate with them. Moreover, some LSPs provide transportation discounts for loyal customers. If you transport goods in small quantities, you can also consider LTL services where you pay only for a place your goods take.
🔴 How do you calculate the total logistics cost?
When calculating total logistics cost, LSPs take into consideration such factors as freight charges, fuel, and shipping fees. In some cases, it's also needed to consider additional services like material handling and warehousing. 
Conclusion
Logistics service providers should strive for transparency in their pricing. However, it's always a big challenge due to rate flexibility that depends on various factors. Plenty of large LSPs have implemented online LTL calculators which allow users to quickly compare available options and book shipments.
The essence of 3PL LTL cost calculators lies in their capacity to offer customers a seamless and transparent means of estimating transportation and supply chain expenses. These platforms consider numerous variables, from distance to vehicle type, delivering accurate pricing calculations in mere seconds. Notably, prominent logistics providers like UPS and DHL embrace these tools to foster pricing transparency and facilitate direct booking through their websites.
If you're in search of similar solutions, consider the WareTeka LTL/FTL Shipping Cost Calculator which can be configured based on your requirements and needs. To get it, drop us a line.