July 05, 2023
The Major Uber's Competitors in the USA and Worldwide

Uber is the first of its kind American transportation company, which growth was so rapid that it created major changes in the industry. Nowadays the number of Uber's competitors grows exponentially, however, there are several that have already reached the top ranks of the world's most successful startup listings.
Started in 2009 as a ride-sharing service, Uber has now developed a broader spectrum of services, including food delivery, freight transportation, pet shipping, options for people with disabilities, healthcare, and public transport. It also has different types of cars to fit the budget and needs of the clients. In some countries, Uber also provides other types of vehicles, such as scooters (for rent), boats, and even helicopters.
By 2040, Uber plans to become a fully electric platform, contributing to the reduction of CO2 emissions.
No wonder, Uber's success has created a base for other companies with similar services, some of them becoming its strong competitors.
Let's briefly overview the company's story, Uber's competitors in the USA and out, and assess how each of them can be compared to the top last-mile mobility startup.
The reasons behind Uber's success
To begin with, we'll share the key numbers that witness a remarkable achievement of Uber's business model.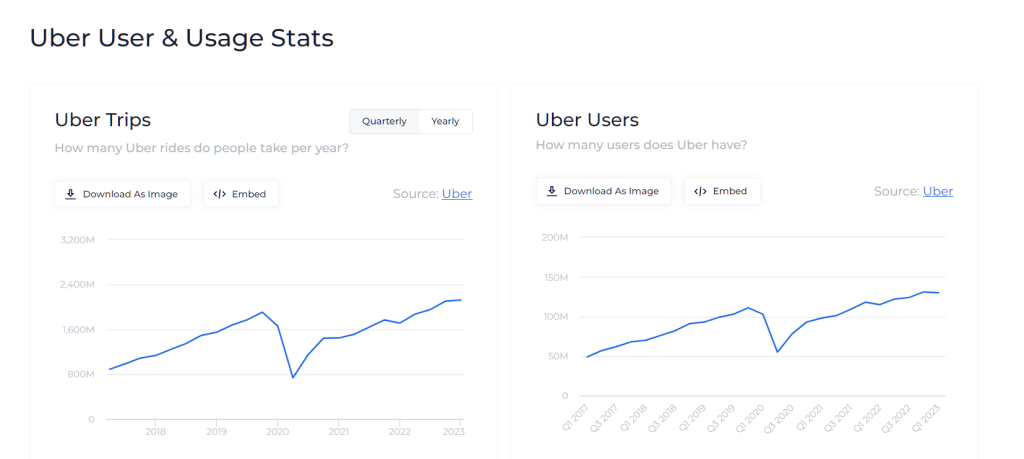 131 million clients use the service monthly,
The number of Uber drivers worldwide is above 5.7 million,
Clients took 7,642 billion Uber trips in 2022, compared to 6,368 billion in 2021,
Uber services are represented in 10,500 cities across 70 countries,
Every day, Uber serves about 24 million trips.
Let's unveil the primary factors underpinning Uber's business success:
Innovative business model. Uber introduced a disruptive business model that leveraged technology to connect drivers with riders through a mobile app. This system revolutionized the transportation industry by offering convenience, ease of use, and real-time ride tracking.
User experience.Uber prioritized creating a seamless and user-friendly experience for both riders and drivers. The mobile app provides a simple and intuitive interface. This allows users to request rides, track their drivers, make cashless payments, and provide feedback easily. The focus on user experience helped Uber gain a competitive advantage over traditional taxi services.
Pricing and cost efficiency.Uber's dynamic pricing model, known as surge pricing, allowed fares to increase during periods of high demand, ensuring the availability of drivers when needed most. This pricing strategy helped balance supply and demand.
Scalability and global expansion.Uber quickly scaled its operations, expanding to new cities and countries at a rapid pace. This aggressive expansion strategy enabled Uber to establish a global presence, gain market share, and create network effects that attracted more drivers and riders to the platform.
Driver partner network.Uber focused on building a large and diverse network of drivers, offering them flexible work opportunities and additional income. This approach helped attract a significant number of drivers to the platform, ensuring quick response times and high availability for riders.
Continuous innovation.Uber has consistently introduced new features and services to enhance its offering. For example, UberPOOL launched shared rides, UberEATS expanded into food delivery, and UberXL accommodated larger groups.
Uber's business model looks appealing to numerous startups worldwide as it grants potent opportunities:
Massive market potential. The success and profitability of Uber have attracted entrepreneurs and investors who see an opportunity to replicate its business model in different regions with unique twists.
Technological advancements. Mobile technology, mapping software, and real-time data processing have made it easier for startups to create their own ride-hailing platforms.
Network effects. Uber's success has created network effects, where more drivers and riders join the platform, leading to a better user experience. New startups can attempt to create their own network effects by attracting drivers and clients to their platforms.
Regional focus. Some startups choose to target specific regions or niches that are not adequately served by Uber or where Uber has a limited presence.
Differentiation and innovation. The platform offers giant differentiation opportunities. Thus, startups may focus on providing better driver benefits, lower fares, improved customer service, luxury rides, shared rides, or eco-friendly transportation options.

Uber's competitors in the USA
In the US, Uber's competitors are introduced by the following main platforms:
Lyft: One of the largest Uber counterparts
These two services have significant similarities. Both Uber and Lyft are innovative transportation companies with drivers as independent contractors and user-friendly apps. However, Lyft is smaller and for now operates only in the USA and Canada, compared to Uber's coverage (63 countries). Also, read about the Android driver scoring app list for truck drivers.
One of Lyft's distinguishing features at the beginning was big pink fuzzy mustaches on the front of its cars. As odd as it may seem, it worked well for brand recognition. However, the company gave up this idea later.
Curb: A gateway to a ride-sharing service
As one of the major competitors of Uber, Curb is the top taxi app in the USA with the goal to close the gap between the taxi business and ride-sharing using advanced technology. All of the drivers in this company are fully licensed, insured taxi drivers.
Curb has the option to book a ride on-demand or up to 24 hours prior for a fee. Customers can also choose a specific driver for their trip. Recently, Curb has launched a new pricing system, which shows the ride rates beforehand.
Aside from transportation services, the company offers fleet soft- and hardware systems.
The implementation of new technology and some features that Uber doesn't have, make Curb one of Uber's biggest competitors in the USA.

Via: A ride-sharing and public transit service
Founded in 2012 in New York, Via currently operates in 20+ countries. From the start the company chose to focus on ride-sharing and sticks to it, rewarding drivers for doing shared rides. One more bonus part for the drivers, Via allows choosing between hourly rates or per-ride payments.
Via's cabs pick up and drop off passengers by the nearest to the destination corners, which is good for keeping customers privacy, cost-saving, and emission-reducing.
Via's business model aims at being something between a taxi and public transport. That's why the company declared that it no longer sees itself among Uber competitors, although the market could decide otherwise.
Wingz: A scheduled ride service
Wingz is one of Uber's top competitors that primarily operates in airports and focuses on providing reliable transportation for travelers. The company also offers services that require drivers with special training, such as medical transportation.
Wingz allows users to pre-book rides to and from airports, providing a convenient and consistent service for frequent flyers.
Zūm: A children-focused transportation service
Zūm offers safe and reliable transportation solutions for families, catering to the needs of parents who require transportation services for their children to and from school, activities, and other destinations.
The platform allows users to schedule rides and carpools for kids and to track rides in progress.

Uber's competitors worldwide
Let's continue our Uber competitor analysis by listing the major global players in this market segment.
Bolt: A European Uber's competitor
Bolt was founded in 2013 by a 19-year-old high school student. Previously known as Taxify, the company decided to change its name in 2019, because it was planning the extension of its services.
One of the largest global competitors of Uber, Bolt has now added food delivery and scooter renting to its scope of services. The company's main area of operation is in Europe.
Didi Chuxing: A Chinese Uber's competitor
Didi Chuxing is a Chinese ride-hailing service, which was the biggest competitor of Uber in China. Due to Didi's strong position in its domestic market, Uber was facing major losses in profit. After a while, Didi Chuxing acquired the Chinese branch of Uber. Aside from taxi, ride-sharing, and food delivery, the company also provides a chauffeur hiring service for customers' own cars; and some automotive services.
Ola Cabs: Uber's competitor in India
Ola Cabs (OLΛ) is on the list of Uber competitors in India. It was founded in 2010 and now operates in 100+ cities in India.
Recently OLΛ has extended to Australia, New Zealand, and the UK. Similar to Didi, OLΛ has an advantage over Uber in its homeland and holds 60% of the market.
Besides cars and bikes, the company also has auto-rickshaws in its fleet.
Gett: Uber's competitor in a range of countries
Gett (formerly GetTaxi) was founded in Israel and now is spread in the UK and the USA. The main difference with other mentioned services is that Gett doesn't hire regular drivers.
For that reason, taxi drivers favor Gett against Uber as it gives them an opportunity for additional income, while Uber disrupts the taxi business. One of the useful features of Gett is that you can book a ride up to 2 weeks in advance.
Cabify: A Latin-American Uber's competitor
Continuing the list of Uber competitors, Cabify is the biggest one in Latin America.
Originating from Spain, Cabify is growing rapidly in Spanish- and Portuguese-speaking countries. Similar to Uber, Cabify has different vehicle classes for different needs, from Executive to Light.
The company was also the first private service, which offered transportation options for people with disabilities.
Grab: Uber's competitor in Singapore
Grab is a Singapore-based ride-hailing company and is now the main Uber competitor in Southeast Asia.
The company hires both private and taxi drivers. Customers can book a taxi for themselves or use a ride-sharing option and also book a ride up to 7 days in advance. Find out more about the best fleet management software.
In addition to transportation, Grab has food delivery services (usually by bikes and motorcycles).
Gojek: Uber's competitor in Indonesia
Gojek is an Indonesian company, which started as a motorbike taxi service. It still focuses on motorbikes (which are very convenient in cities with dense populations), but car taxis are also available.
Gojek now is a major technology company with a range of on-demand services, including transportation, logistics, food delivery, medical services, and payment solutions.
Uklon: Uber's competitor in Ukraine
Uklon operates as a ride-hailing platform, connecting customers with drivers through a mobile app. It offers cars, taxis, and courier services.
The service works through the Uklon app and offers passenger transportation and delivery services. Customers can use the app to request couriers for package or document deliveries, making it a convenient option for sending items within the city.
Uklon has gained popularity in Ukraine due to its user-friendly app interface, competitive pricing, and wide network of drivers.

Seeking to create an Uber-like app? Look no further
If you are considering creating an application for a transportation service, the vital aspect is finding a professional partner. Coreteka has a team of skilled developers with strong domain expertise in transportation.
We've worked out a driver tracking app, transport management system, digital freight platform, and multiple other associated solutions. We are empowered with profound knowledge, qualifications, a tech stack, and a passion for even greater accomplishments.
Keeping pace with cutting-edge technologies, we explore the achievements of Uber's competitors, make valuable lessons, and utilize our own creativity and technical excellence to gain transcending results.
Therefore, if you are planning to implement an app similar to or better than Uber, let us help you in the most efficient way.

To sum up
After having analyzed who Uber's competitors are, we can conclude that these last-mile mobility companies mostly deliver similar services combining them with their distinctive features, which make them stand out.
But why have they become so popular, displacing classic taxi services?
One of the reasons is digitalization. It is much more efficient to book a ride in an app than waste your time by talking to the operators.
GPS maps allow you to track the driver and your road, and in-app payment solutions are more convenient than cash.
The other reason is simple: these services are cheaper.
The market sector of ride-hailing platforms is enticing for startups primarily because of sound opportunities and comparatively low entrance barriers. With the right software development partner, entrepreneurs can launch a distinctive solution that would benefit business owners and clients alike. Also, you can read about 4pl solutions on our website.
If you need help developing your own last-mile or on-demand mobility service – or other transportation and logistics software – contact us! CoreTeka team has deep experience in these markets.